Trump Ousts Scaramucci in Latest White House Shakeup
By and
Financier agreed with new chief of staff John Kelly to leave

Spicer seen at White House event but doesn't answer question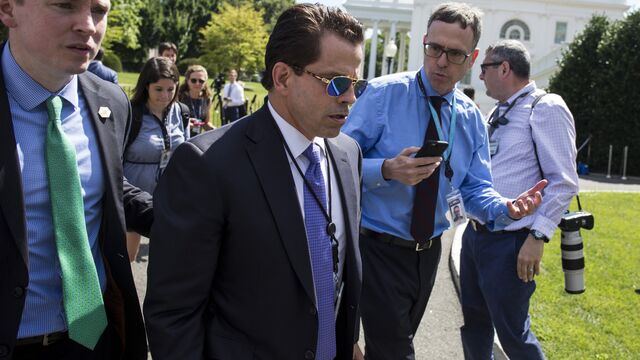 Anthony Scaramucci was removed from his new job as White House communications director on John Kelly's first day as chief of staff, just 10 days after the financier joined President Donald Trump's staff.
"Mr. Scaramucci felt it was best to give Chief of Staff John Kelly a clean slate and the ability to build his own team," press secretary Sarah Sanders said in a statement announcing the departure of the SkyBridge Capital founder.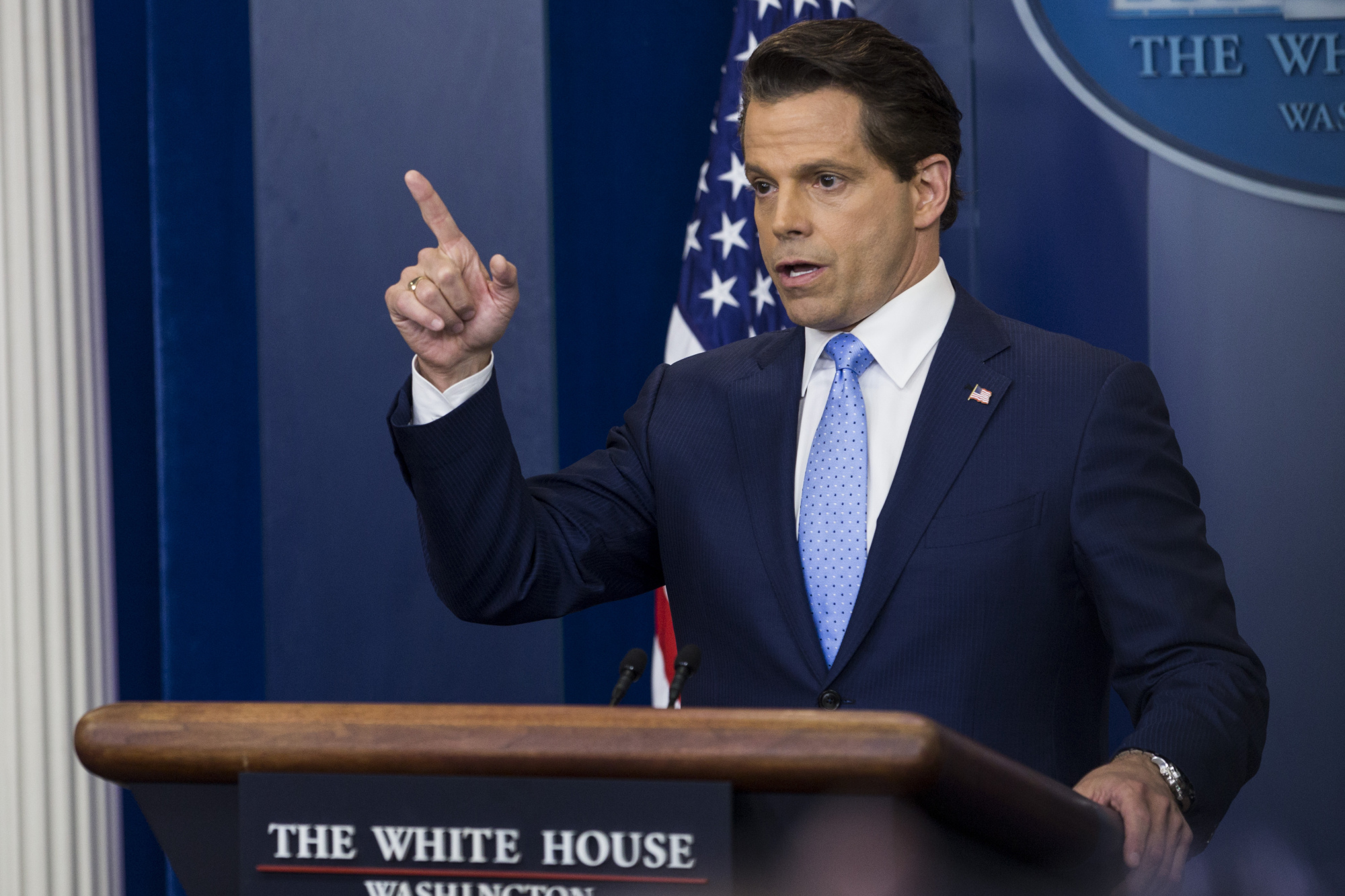 Sanders said Scaramucci left in a "mutual agreement" with Kelly, who replaced Reince Priebus on Friday. "He does not have a role at this time in the Trump administration," she said, and won't return to a previous job at the Export-Import Bank.
Scaramucci didn't return calls for comment, and the Export-Import Bank didn't comment immediately.
The timing of Scaramucci's ouster, whether at the hand of Trump or at the insistence of Kelly, is a strong signal to the rest of the administration that the president's new chief of staff has broad authority to impose discipline. Scaramucci had previously said that he answered directly to the president, not to the chief of staff, and he had publicly feuded with Priebus.
Sanders said that Trump "did not want to burden General Kelly with that line of succession. General Kelly has the full authority to operate in the White House and all staff will report to him."
Profane Tirade
Scaramucci last week profanely criticized both Priebus and White House chief strategist Stephen Bannon in an interview published by the New Yorker. The vulgarity-laced tirade didn't help his standing within the White House, according to one person close to Trump. Sanders said Trump found the remarks to be "inappropriate."
Scaramucci's departure raises new questions about his plans to sell his stake in SkyBridge to China's HNA Group Co. and little-known investment firm RON Transatlantic. The proposed transaction is being scrutinized by the Committee on Foreign Investment in the United States, which vets sales of American assets to foreign buyers to protect national security.
Former press secretary Sean Spicer, who resigned after Scaramucci was hired on July 21, was seated with other White House officials at a ceremony in which Trump awarded the Medal of Honor to a Vietnam veteran. There was speculation Spicer would be asked to stay on, but both he and Sanders declined to answer questions. One White House official, who spoke on condition of anonymity, said Sanders's role won't change.
Sanders said she was not aware of any changes in Spicer's employment status. All other senior staff at the White House are planning to remain in their jobs, she said.
Kelly's Authority
Kelly was sworn in on Monday morning. White House officials had said he would enjoy greater authority over the West Wing's staff than Priebus, and he appears to have swiftly demonstrated that power. Scaramucci was present in the Oval Office for Kelly's swearing-in, shortly after 9 a.m.
"He will do a spectacular job, I have no doubt, as chief of staff," Trump told reporters in the Oval Office after Kelly was sworn in. Later, in a meeting of his Cabinet, Trump said that Kelly's work as Homeland Security secretary -- where he vigorously implemented the president's promised crackdown on undocumented immigration -- "is nothing short of miraculous."
Kelly, 67, represents a course correction after Priebus proved ineffective, said Chris Ruddy, chief executive officer of Newsmax and a Trump friend. Priebus declined to comment.
"The president is about performance. He rates everyone, including himself," Ruddy said in an email. "After health care failing and constant leaks, I think the president made a move to hit the reset button and bring in new leadership. It was smart and decisive."
First Meeting
In a sign that the White House was regrouping after its tumultuous week and defeat on the health-care bill, Kelly focused his first Cabinet meeting on the upcoming push to overhaul the nation's tax code.
"The number one topic of the Cabinet meeting today was talking about taxes, tax reform, what it would take to get tax reform done this year," Gary Cohn, the president's top economic adviser, said Monday.
The president said in a tweet Monday that stock-market highs, low unemployment, improved border security, the confirmation of his Supreme Court nominee and other economic indicators are all evidence that his administration is performing well. ''No WH chaos!" he wrote.
White House officials said they expected Kelly to quickly clarify the chain of command and to establish rules and procedures for those seeking access to Trump. He's bringing Kirstjen Nielsen, his chief of staff at Homeland Security and a trusted adviser, with him to his new job, a White House official said.
Walk-In Privileges
"Trump doesn't really like to delegate. He likes to be accessible," said David Cohen, who teaches political science at the University of Akron in Ohio and is writing a book about White House chiefs of staff. "The number of people who have walk-in privileges to the Oval Office is unlike anything we've seen in the modern presidency."
Trump's daughter Ivanka and son-in-law Jared Kushner, both also senior advisers to the president, have committed to work with Kelly to create more order, a White House official said. While it's unlikely that the walk-in privileges of Trump's children will be curtailed, other senior officials may lose their direct line to the president.
The general could find several allies within the competing power structures of the White House. They include Bannon, who throughout Kelly's brief tenure as Homeland Security secretary has privately praised the Boston-born military leader's effectiveness in an administration that often hasn't functioned smoothly.
Two people close to Trump and Bannon said the latter's position in the administration doesn't appear to be in imminent jeopardy. Scaramucci crudely criticized the strategist -- an architect of Trump's win in November -- in the New Yorker interview last week.
Priebus's departure was foreshadowed after the new communications director took their monthslong feud public, using profanity to describe the former chief of staff as a "paranoid schizophrenic" in the New Yorker story.
— With assistance by Toluse Olorunnipa
Before it's here, it's on the Bloomberg Terminal.
LEARN MORE