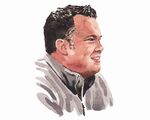 As a twentysomething, Tegan Passalacqua regularly went tramping across California wine country. While growing up in Napa, he became interested in wine, and, after earning a degree in viticulture at Napa Valley College, he worked as a technician at wineries in France, New Zealand, and South Africa. By the time he ascended to vineyard manager at California's Turley Wine Cellars Inc., a midsize label known for its busty zinfandels, he was ready for a challenge. "I loved my day job, but I still wanted something that I can stand behind and know, 'This is me,' " he says.
Passalacqua had become familiar with some of the more obscure European varietals that grow in the state's sandy-­soil hinterlands—Mataro, carignan, and trousseau noir—which produce wines that are "on the more feral side," he says. For the most part, the grapes were either being sold off for blends or bottled into small-run wines with little public profile. "Here are these old, great vineyards that have something other than zinfandel," he says he thought at the time. "Why don't I try making wine from them?"
In 2010, Passalacqua opened Sandlands, a winery that put these little-known grapes front and center. "Outside of Napa Valley, California wine is in its infancy," says Rajat Parr of Sandhi Wines LLC, who oversees the wine program at acclaimed San Francisco chef Michael Mina's restaurant group. "He's opening people's eyes." Of the 1,200 cases Passalacqua produces a year, many go to members of his subscriber list, while others appear on the menus at top restaurants such as Le Bernardin in New York and Chez Panisse in Berkeley, Calif.
Passalacqua tries to keep the store price per bottle below $30—something he's able to do because the grapes he buys aren't highly sought-after by his fellow winemakers. "Everyone I know kept telling me, 'You gotta raise your prices,' " he says, after his first few vintages sold out. But he resisted, choosing accessibility over exclusivity, aka "the bummer of the wine industry."
In 2016 sales of California wines in the U.S. reached $34.1 billion, up from $18.5 billion in 2010, and young wine consumers are particularly eager to pursue nontraditional varietals. Passalacqua's goal is to eventually get to 2,000 or 3,000 cases a year—still not a big production. He doesn't have a marketing budget or even much of a social media presence, relying instead on word-of-mouth to promote the project. So far he's gotten far more inquiries than he can satisfy, many from repeat customers. "I can't think of a better compliment, as when people say, 'We just opened the wine. Can I buy another couple bottles?' " he says.
Before it's here, it's on the Bloomberg Terminal.
LEARN MORE