Scana to seek approval from state regulators to drop project

Scana CEO had said abandonment was least preferred option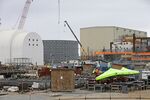 One of two nuclear power projects under construction in the U.S. was scrapped after one of the co-owners said halting work would save customers almost $7 billion.
The future of the two half-finished reactors in South Carolina, plagued by years of delays and billions in cost overruns, was thrown into uncertainty by the bankruptcy of nuclear-plant builder Westinghouse Electric Co. Scana Corp., which has a 55 percent stake in the project, said it will ask the Public Service Commission of South Carolina to approve its abandonment plan, according to a statement on Monday. 
The decision to halt the expansion of the V.C. Summer plant comes four months after Westinghouse filed for bankruptcy and underscores the financial challenges facing U.S. nuclear power. Operators have closed at least five money-losing reactors in the past five years, and more early retirements are scheduled. Southern Co.'s utility in Georgia is weighing whether to move ahead with two reactors under construction at its Vogtle plant in Georgia.
"This doesn't bode well for new nuclear construction," Paul Patterson, a New York-based analyst for Glenrock Associates LLC, said by phone. "It highlights the risk of these projects."
Read more: Why Nuclear Power, Once Cash Cow, Now Has Tin Cup
Scana's decision Monday threatens to weaken the business case for the Vogtle reactors as the two companies could have sourced materials and services together. Scana slumped the most in more than two years late last week after the utility said the V.C. Summer expansion faced "significant challenges."

Jacob Hawkins, a spokesman for the Vogtle project, didn't immediately return a phone call or email seeking comment.
Fluor Corp., a contractor that Scana had previously said was capable of taking over the V.C. Summer project from Westinghouse, dropped as much as 6.3 percent to $41.78 in intraday trading. Scana jumped as much as 5.7 percent on the news.
Just last week, Scana and Santee Cooper secured a $2.2 billion payment guarantee from Toshiba Corp., the parent of Westinghouse. Still, Scana said the plants would face additional costs, casting doubt over whether they would be completed. That marked a shift from the end of March when Scana Chief Executive Officer Kevin Marsh said that scrapping the project would be the "least preferred option." 
Monday's decision came after Santee Cooper, the state power authority with a 45 percent stake in the new reactors which came up with the $7 billion estimate, said it wouldn't be in the best interests of its customers to continue. Scana cited Santee Cooper's decision to halt work, as well as uncertainty over the availability of production tax credits and the amount of payments guaranteed from Toshiba.
"I'm sure there will be customer outrage," Stacy Nemeroff, a Princeton, New Jersey-based analyst for Bloomberg Intelligence said by phone Monday. "The regulators have been pretty accommodating about delays and cost overruns, but how they'll deal with a canceled project is unclear."
Westinghouse is "disappointed" by Santee Cooper's decision to halt work at both reactors, the Cranberry Township, Pennsylvania-based Toshiba unit said in a statement. The company said it will work with Scana to close out the project.
Quotes from this Article
Before it's here, it's on the Bloomberg Terminal.
LEARN MORE