Pratt's Woes With Engines Spur Compensation to Biggest User
By
India's biggest airline IndiGo to buy planes instead of lease

IndiGo received 22 A320neos instead of promised 36 so far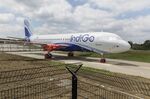 IndiGo, India's biggest airline, said it received compensation from Pratt & Whitney as the manufacturer struggles to fix glitches in engines that power Airbus SE's new A320neo jets.
The nature of the compensation from Pratt & Whitney is confidential, the airline's Chief Financial Officer Rohit Philip said Monday after the carrier reported first-quarter profits. The carrier is not happy with the engine issues and it may take one and a half years to sort out the issue, IndiGo President Aditya Ghosh said on a conference call Monday.
"We continue to have a higher number of engine removals, and sufficient spare engines have not been available," he said. "The operational disruptions are quite challenging, and we are not happy with that situation."
Pratt & Whitney understands that the issues are disrupting customers' operations and said in a statement that "we are working hand-in-hand with them on a daily basis to address their in-service fleet issues."
The airline, operated by InterGlobe Aviation Ltd., was forced to ground as many nine new A320neo jets on some days, Ghosh said. It may be a year or so before Pratt & Whitney implements design changes to the geared turbofan, he said.
The groundings, which emerged in recent months, are holding back IndiGo's push to add capacity to maintain its domestic market share of more than 40 percent amid a travel boom triggered by an emerging middle-class flying for the first time. The airline, India's biggest and the world's top customer for the A320neo, has said in the past it will consider a rival engine manufactured by CFM International, an alliance of General Electric Co. and Safran SA, if glitches persist with the Pratt & Whitney models.
Pratt Confidence
Akhil Johri, CFO of Pratt parent company United Technologies Corp., said in an interview last week that the manufacturer is confident it's getting a handle on the problems and still expects to hit a 2017 delivery target of 350 to 400 engines. He said Pratt & Whitney is incorporating revised carbon seals to address a durability issue and should have a fix by October for a separate glitch with the combustor liner.
"We feel GTF problems are understood and behind us to a large extent, from a production point of view," he said.
India has the largest fleet of A320neos and the country's aviation regulator earlier this year ordered two airline operators to inspect powerplants with over 1,000 hours of service. Pratt has been working to fix durability issues and production snags that have hampered the debut of the engine, which was selected to power new jets from Airbus, Bombardier Inc. and Embraer SA.
Forced Leasing
"A320neos have not been delivered as per the plan with Airbus," airline CFO Philip said, adding it is hurting the company's profitability. "To make up for the shortfall, we had to go to the aircraft-leasing market, and had to enter into short-term leases for used A320s."
India is a crucial market for both Airbus and Pratt, with IndiGo having ordered 430 of the A320neo jets, of which 22 have been delivered. Go Airlines India Ltd. has five in operation and was awaiting deliveries of 139 more. State-run Air India Ltd. and Vistara, the local affiliate of Singapore Airlines Ltd., also fly A320neos, but they are powered by CFM engines.
IndiGo, controlled by billionaire founders Rahul Bhatia and Rakesh Gangwal, will begin owning aircraft, purchasing them using cash in hand, in a move away from a sale-and-leaseback model it has followed so far, Philip said. New aircraft will be in service for more than the typical six years that the carrier now sees and will enable the airline to cut down on leased planes, the company said.
"We are shifting our fleet acquisition policy to allow us to reduce our operating costs, which will result in higher profitability in the longer term," Philip said.
IndiGo said it had total cash of 101.8 billion rupees ($1.6 billion) as of June.
Profit for the quarter ended June 30 rose 37 percent to 8.1 billion rupees, the company said Monday. IndiGo has made money every year since at least the period starting April 2009, even as the Indian airline industry lost a combined $10 billion over a similar period.
IndiGo shares fell less than 0.1 percent to close at 1,290 rupees in Mumbai. They have risen 57 percent this year, compared with a 22 percent advance in the benchmark S&P BSE Sensex index.
— With assistance by Rick Clough
Before it's here, it's on the Bloomberg Terminal.
LEARN MORE