Pence Pledges U.S. Backing of Baltic Nations Against Russia
By
Russian aggression represents largest threat to the region

U.S. vice president is also heading to Georgia, Montenegro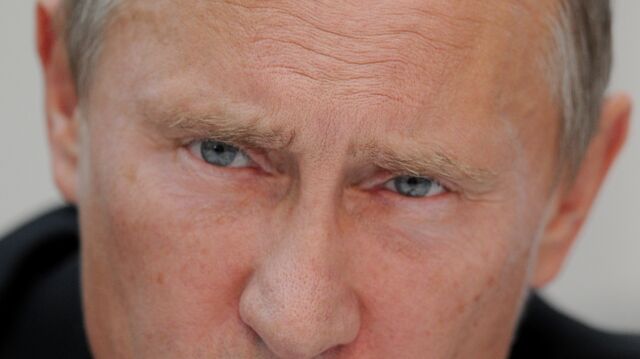 Vice President Mike Pence said the U.S. stands with the Baltic nations against any threats from Russia as tensions continue to flare between the former Cold War foes.
Pence made Estonia his first stop on a visit to eastern Europe that will also take in Georgia and Montenegro, where he'll meet Balkan NATO members and aspirants. His trip follows last week's Russian-Chinese naval exercises in the Baltic Sea and comes before planned Russian military drills in September that have in the past simulated an attack on the region.
Russia's annexation of Crimea and involvement in the conflict in eastern Ukraine spooked the Baltics and triggered a rethink of NATO's role in ex-communist Europe. Western troops were added in response in nations such as Estonia and Latvia, unwilling former Soviet republics with large Russian-speaking minorities. While recently backing NATO's collective-security pledge, President Donald Trump has courted Russian President Vladimir Putin and raised doubts about the U.S.'s commitment to far-away allies.
"No threat looms larger in the Baltic states than the specter of aggression from your unpredictable neighbor to the east," Pence said Monday in Estonia's capital, Tallinn. "At this very moment, Russia continues to seek to redraw international borders by force, undermine democracy of sovereign nations and divide the free nations of Europe one against another."
NATO Reinforcements
Pence spoke a day after Putin told the U.S. that it must cut staff at its embassy in Moscow and other facilities in Russia by 755 people by Sept. 1, a retaliatory move for new sanctions legislation passed by Congress last week and earlier diplomatic expulsions by the U.S. The move "won't deter" U.S. commitments to its allies, Pence told a joint news conference with the presidents of Estonia, Latvia and Lithuania.
Putin, at a meeting with his Finnish counterpart Sauli Niinisto last week, said "anti-Russia hysteria" is growing and "Russophobic instruments" are being used as part of a domestic U.S. political fight that may result in stricter sanctions against his nation. Pence said his country "hopes for better relations with Russia."
This month, the U.S. for the first time temporarily brought Patriot air-defense systems to Lithuania as part of military exercises. Estonia, which borders Russia, has said it wants to enhance its defensive capabilities with anti-aircraft weapons and is seeking a more permanent deployment with other countries inside NATO.

"The U.S. rejects any attempt to use force, threats, intimidation or malign influence in the Baltic states or against any of our treaty allies," Pence said. "The U.S. stands firmly behind our Article 5 pledge of mutual defense and an attack on one of us is an attack on us all."
Pence also welcomed the Baltic nations' military commitments. Estonia is one of only a handful of NATO members to meet the alliance's investment goal of 2 percent of gross domestic product, while Latvia and Lithuania pledge to meet the target by end of 2018. Defense spending is a gripe Trump has raised repeatedly.
Before it's here, it's on the Bloomberg Terminal.
LEARN MORE