Koch Brothers Move to Back White House's Tax-Cut Plan
By
August viewed as key month to prime legislative pump on issue

Millions to be spent making case for tax overhaul this year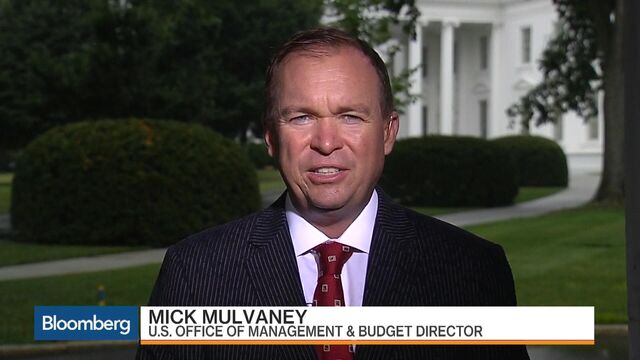 After times of only tepid support for President Donald Trump's agenda, the billionaire Koch brothers are putting their financial muscle behind the White House's plan to overhaul U.S. taxes.
Two gatherings in Washington this week mark the start of the push, and the network of conservative advocacy groups controlled by the Kochs has already lined up events in 36 states to make sure members of Congress hear the call for lower taxes when they're home for their August recess.
The move marks a pivot for the Kochs, who didn't support Trump in 2016 and have come out against some of his policies. The network -- joined by many of the nation's retailers -- scored a kill last week when Republican leaders abandoned the so-called border-adjusted tax on domestic sales and imports. 
The proposal had driven a wedge between the Koch-affiliated groups and some of their staunchest allies, including BAT advocate House Speaker Paul Ryan.
"We're committed to achieving legislation that can get to the president's desk that he can sign," Americans for Prosperity President Tim Phillips said in an interview. "We are strongly supportive of the blueprint for tax reform that was laid out by the Trump administration."
Thus far, the administration has released only a one-page plan that was shy of specifics on how to pay for cutting taxes for businesses and individuals. As details take shape, tensions could re-emerge. While the Kochs tend to favor a more purist view of limited government, Republican lawmakers face a political balancing act, which may become more fraught after having failed to unite behind a measure to repeal the Affordable Care Act.
Wealthy Network
Charles and David Koch built their fortunes from Koch Industries, a Wichita, Kansas-based conglomerate with interests ranging from oil and ranching to farming and the manufacturing of electrical components. They've spent decades building a network of wealthy political donors who pledge money to conservative causes and their advocacy groups.
The new-found unity will be on display Monday in Washington when two Koch-funded groups, Freedom Partners and AFP, host Treasury Secretary Steven Mnuchin and White House Director of Legislative Affairs Marc Short for a panel discussion on taxes. Two days later, they'll hold another tax event showcasing Representative Mark Meadows, a North Carolina Republican and ally who is chairman of the House Freedom Caucus.
Other groups that promote smaller government and lower taxes, including the Club for Growth and U.S. Chamber of Commerce, are also expected to weigh in. The Business Roundtable, a group of leading chief executives, said late last week it will launch a "multimillion-dollar" campaign on tax reform that will include national cable ads and radio spots on 250 stations across the country.
Tiered Strategy
On the tax fight, the Koch groups have a tiered strategy for targeting lawmakers, according to a memo prepared for donors at a summit in Colorado in late June.
The first pot has been labeled the "Persuadables" and includes lawmakers on key tax committees, including Representative Peter Roskam, an Illinois Republican who presides over the Tax Policy Subcommittee. A second group, "Vulnerables," includes Democrats in states that sometimes lean Republican, such as Senator Tammy Baldwin of Wisconsin, who could face challenging 2018 re-election bids. Finally, a group tagged "Champions" includes House and Senate members the Koch network views as allied on the tax issue.
Trump has promised the largest tax cut in history, including a reduction in the 35 percent corporate rate to 15 percent. He's also called for reducing the number of individual tax rates to three from seven, and cutting the top rate to 35 percent from 39.6 percent -- a change that would represent a major reduction for top earners.
Trump's White House had been promising a more detailed plan -- agreed-upon by House and Senate leaders -- by early September. Last week, administration officials and congressional leaders released a joint statement outlining their tax principles.
'Go Big'
The Koch-aligned groups also want a corporate rate of 15 percent and three brackets for individuals. They're arguing for five "pillars for principled tax reform" that include "simplicity," "efficiency," "equality," "predictability," and "no additional burden on taxpayers."
"We're urging the Republicans in Congress to really go big on this," Phillips said. "We would urge doing even more there to get rid of the carve outs and deductions that benefit people at the top of the pyramid and the most powerful individuals and corporations that have the lobbyists and the lawyers who can help them protect themselves."
Roughly 50 events are planned at the state level in August and September, ranging from town hall-style meetings to policy discussions to phone banks that will contact voters, AFP spokesman Levi Russell said.
Koch-affiliated groups have spent close to $2 million on the tax issue so far this year, Russell said, with virtually all of it being spent on online ads. That figure will "easily double" in the remaining months of 2017 and could eventually include cable or broadcast television ads.
'Herculean Lift'
Phillips has met on the tax issue with Mnuchin and Short, who is a former Freedom Partners president, as well as Vice President Mike Pence, Russell said. "The dialog with the White House is very good," he added.
That hasn't always been the case this year. After not supporting Trump in 2016, the Koch network has criticized administration positions, including the proposed travel ban on some refugees and immigrants. Freedom Partners has also warned that Trump's call for a $1 trillion infrastructure package could become a "spending boondoggle." And the president's tendency to target individual companies for criticism, as well as his talk of new tariffs, also clash with the network's free-market views.
Phillips dismissed questions about whether there's enough political will and time on the legislative calendar to complete a tax overhaul still this year by saying conventional wisdom in Washington has been repeatedly proven wrong in the past year.
"We understand that by conventional standards, it's a herculean lift," he said. "But we do think it's possible to get this done and get it done this year."
Before it's here, it's on the Bloomberg Terminal.
LEARN MORE