markets
European Diesel Jumps as Fire at Pernis Refinery Cuts Supply
By and
Pump prices for diesel could increase, Mizuho's Yawger says

Incident could spur increase in shipments from Asian refiners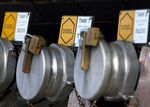 European diesel surged after a fire at the region's biggest refinery on Saturday left traders scrambling for supply in the area's main oil-trading hub and prompting speculation that retail prices could rise.
The fire at Royal Dutch Shell Plc's Pernis site led to the halt of most units late Saturday and the company doesn't expect any of the units to restart Monday. PVM Oil Associates said traders were "panic buying" gasoil contracts early Monday while a Bloomberg survey showed the disruption could spur increased flows of diesel from Asia.
Europe's diesel market has tightened in recent weeks following disruption at Total SA's Leuna refinery in Germany, which left some retail stations without fuel in the Leipzig area. Inventories held in independent storage have fallen counter-seasonally this month, the biggest drop for any July in 6 years, PJK data show.
Pernis is "accelerating the pace of the tightening" of the diesel market, Petromatrix GmbH Managing Director Olivier Jakob said by phone.

ICE gasoil for August delivery closed at $489 a ton, the highest since April, with the front-month contract settling at a premium of $1.50 to September futures, a structure known as backwardation which signals near-term tightening in supply. That's the biggest prompt premium in more than 2 years. Pernis can process just over 400,000 barrels of crude a day, making it the largest facility in Europe.
This map shows global refineries with capacity of at least 400,000 barrels a day
The shutdown could "lead to the opening of the arbitrage window from Asia to Europe," said Ehsan Ul-Haq, an analyst at researcher Resource Economist Ltd., using the industry term for flows of fuels from one region to another based on price differences.
"Although global diesel supply is more than adequate to meet present demand, regional bottlenecks on this continent are likely to result in higher middle distillate prices and cracks in the Atlantic Basin," Ul-Haq said.
Refiners don't typically schedule maintenance for summer when demand for gasoline peaks. While Total's Leuna has restarted, Hellenic Petroleum's Elefsina plant is offline for work.
Automotive diesel in the Netherlands has already been rising, averaging 484.59 euros ($572) for a thousand liters during the week ended July 28, according to European Commission data. That's up from 453 euros at the end of June.
The current tightness in physical gasoil markets will undoubtedly filter through to buyers of diesel at the pump, according to Bob Yawger, director of the futures division at Mizuho Securities USA Inc. The structure of the gasoil market now "implies a greater physical tightness than anything else except RBOB gasoline," he said.
— With assistance by Bill Lehane, Paul Burkhardt, Sherry Su, and Heesu Lee
(
Adds comment in final paragraph.
)
Before it's here, it's on the Bloomberg Terminal.
LEARN MORE