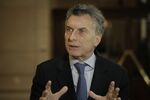 There is one small problem with Argentina's incipient economic recovery: consumers aren't feeling it. And that spells trouble for President Mauricio Macri in congressional elections in October.
Even as the latest figures show the economy grew 3.3 percent in May from a year earlier, consumer confidence in July fell 6.9 percent year-on-year. 

Analysts surveyed by Bloomberg expect the economy to grow 2.8 percent this year, propelled by an agricultural sector that's booming after Macri slashed prohibitive export taxes on grains. The construction industry is also starting to hum as tenders for state-funded infrastructure projects grew by almost 200 percent. But three key indicators are lagging: the inflation rate, after falling, is proving stubborn; industrial activity, the main creator of employment, is sluggish, and consumption, the main driver of the economy under the previous government, isn't recovering at the same pace.

More worrying for Macri is that the lag in those sectors is being felt most keenly in the greater Buenos Aires area — precisely where he will face off in October against former President Cristina Fernandez de Kirchner. Victory or defeat will be measured by whether Macri's alliance garners more votes in the race for senate seats in the province. 
"The recovery is slower and more mixed in the industrial sector and that has electoral importance because a large part of industry, the small and medium-sized companies and those more affected by outside competition, is concentrated in the greater Buenos Aires cordon," said Martin Ravazzani, an economist at Ecolatina.

Fernandez, who set up an alliance that broke away from the traditional Peronist party, leads in all polls seen by Bloomberg.  Investors are treating the elections as a bellwether of appetite for Macri's reforms: if he loses to Fernandez they may withhold the injection of capital he's betting on to sustain the recovery.
Inflation has slowed in 2017 to half of its peak in 2016, but it's not enough to compensate for lost purchasing power last year, said Mariel Fornoni, director of polling firm Management & Fit.
That's had a knock-on effect on consumption, which is showing a tepid recovery after three quarters of contraction last year.
While Ecolatina expects consumption to grow by 2 percent in the second quarter, it sees a recovery of purchasing power delayed until the third quarter, Ravazzani said. That timing may be cutting it close for the government. 

Meanwhile, industrial production contracted for 15 consecutive months on a year-on-year basis between February 2016 and April 2017.  Textiles, one of the least competitive sectors, have suffered as the government eased restrictions on imports: they fell 13.3 percent in May from a year earlier.
Macri could have chosen to hedge his bets by emphasizing that the election is about the whole country, where the reforms have been less painful, not just Buenos Aires province. But "he's chosen to fight the election in the one place where he can lose," said Jorge Asis, a novelist and political commentator based in Buenos Aires.
(
Corrects timeline for industrial production contraction in 10th paragraph in story that ran on July 31.
)
Before it's here, it's on the Bloomberg Terminal.
LEARN MORE