UBS Shares Drop After Swiss Asset Review Hits Capital Buffer
By
Risk-weighted assets increased by 15 billion francs in quarter

Extra capital costs reflect new rules for models, loan limits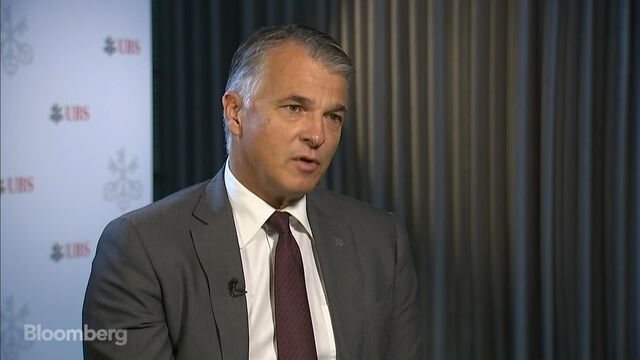 UBS Group AG fell the most in six months after a review of the bank's assets by the Swiss financial regulator hit its capital buffers.
The bank reported a core equity Tier 1 ratio of 13.5 percent in the second quarter, down from 14.1 percent at the end of March. That translates to 600 million Swiss francs ($619 million) in extra capital costs and may mean less cash available for shareholders.

In the years since the financial crisis, UBS has scaled back trading activities to free up funds to comply with tougher rules on loss-absorbing capacity. Ermotti told shareholders at their annual meeting in May that the bank may return to buybacks for the first time in a decade if legal and regulatory costs decline.
UBS has a policy of returning at least 50 percent of net profit to its investors if its capital ratio doesn't drop below 13 percent. It could lower those ratios as long as it has enough capital necessary to sustain the business, Ermotti told analysts Friday.
He added that it was premature to talk about a new trigger level, saying "we may even not have one in the future." Later he told journalists he is "comfortable" the dividend policy would remain unchanged.
The shares fell as much as 4.3 percent on news of the capital dent -- the most on an intraday basis since Jan. 27. They were trading 3.5 percent lower at 16.79 francs as of 4:34 p.m. in Zurich.
Chief Financial Officer Kirt Gardner said in a conference call that the bank's capital ratio remains strong. The lender has a CET1 leverage ratio of 3.7 percent and total loss-absorbing capacity of 74 billion francs. It expects an additional 6 billion francs in risk-weighted assets in the second half.
"The CET1 capital ratio came in weak at 13.5 percent, 50 basis points below expectations, which is driven by a surprisingly strong pick up in RWA," Tomasz Grzelak, an analyst at Helvea Equity Research, wrote in a note to investors. "On the positive side, CET1 leverage ratio is strong at 3.7 percent, 14 basis points ahead of market estimates."
Loan Limits
The bank said its risk-weighted assets increased by 15 billion francs in the second quarter, mainly as a result of regulatory-driven changes. Basel regulators are putting the final touches on post-crisis capital rules, setting stricter standards for how lenders evaluate the riskiness of their assets.
About 4 billion francs were for market risk "reflecting asset size and other movements," the bank said in its quarterly report. Swiss regulator Finma in April brought its rules in line with new Basel standards imposing a maximum limit on the size of individual loans.
Like its Swiss rival Credit Suisse Group AG, UBS has stepped up lending in response to strong demand. Loans in its wealth management business increased 7.9 billion francs in the six months through June, about half of that in the second quarter, Gardner said.
Swiss regulator Finma has been reviewing bank assets in preparation for the new Basel standards, a multi-year process that accelerated this year, Gardner said. The additional risk-weighted assets were mainly for Lombard lending, real estate and counter-party risk in the investment bank, he said.
Market Reaction
The decline in the capital ratio is likely to be confusing to the market, according to analysts at JP Morgan Cazenove, which maintained its overweight recommendation on the stock while saying the bank "could have done better considering market environment."
Net income rose 13.5 percent to 1.2 billion francs from a year earlier. Analysts were expecting 800 million francs, the average of four estimates compiled by Bloomberg.
Pretax profit from the U.S. private wealth business rose 25 percent to 297 million francs from a year earlier, missing estimates for 345 million francs compiled by the bank. Wealth management Americas, as that unit is called, had outflows of $6.4 billion, reflecting "lower recruiting in the quarter," the bank said. Those outflows are set to steady, Gardner said.
"UBS quarterly results were solid," said Dieter Hein, an analyst with Fairesearch who has buy recommendations on UBS and Credit Suisse. "The negative market reaction was a bit exaggerated."
Before it's here, it's on the Bloomberg Terminal.
LEARN MORE