Trump's Attacks on Sessions Are Angering His Base in Deep-Red Alabama
By
Sessions won 97 percent of the vote when he last ran in 2014

'A very rude way to pay back loyalties, and people see that'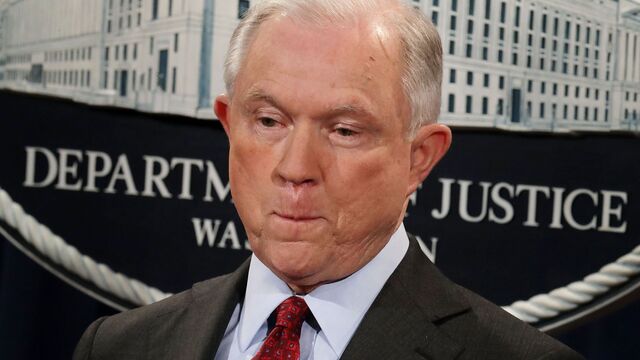 The poor, black and Democratic neighborhoods of Alabama's North Birmingham didn't vote for President Donald Trump, who has spent the past two weeks disparaging and Twitter-torturing Jeff Sessions, the attorney general and former U.S. Senator from their state.
They've been enjoying the spectacle, though, as Trump strikes at the heart of his Southern support. Known for his strong constituent services, Sessions's popularity is high among the white Alabamians who handed the state to Trump in November.
"You watch. People are going to start calling Trump a northerner, a New Yorker, a Yankee," said Jimmy Smith, 84, a five-decade North Birmingham resident. "Trump is going to lose the support of his Southern people if he keeps it up. He crossed a line with Sessions."
And Alabama is reacting, if not yet abandoning Trump as decisively as Smith predicts.
"People have been calling into the party offices and they are upset," said Sallie Bryant, chairwoman of the Jefferson County Republican Party, which includes Birmingham. "It's the average Joe Q Public calling in. Pretty much everybody starts off saying 'I'm a Trump supporter," but they are all angry, very, very upset. They want us to call our delegation and tell them they need to tell Trump to quit."
On July 19, Trump began an extraordinary effort to undercut Sessions, who left a 20-year U.S. Senate seat to become Trump's attorney general, after serving as his first high-profile campaign backer. In tweets, interviews and press statements, Trump called his attorney general weak, beleaguered and a disappointment, in an apparent attempt to encourage Sessions to resign or to lay the groundwork for his firing. The reason is Session's March recusal from an intensifying investigation into whether the Trump campaign ties had with Russia. Sessions says he has no plans to resign.
Aura of Integrity
Sessions has spent a career espousing the kinds of policies Trump based his campaign on, including tough stands on immigrants, criminals and trade. He's beloved in Alabama for his policies, his non-glamorous, anti-charismatic manner and his aura of integrity. He got 97 percent of the vote the last time he ran for his seat in 2014: No one bothered to challenge him. Known for his strong constituent services, his popularity is high among the white Alabamians who handed the state to Trump in November.
"Jeff has always been someone you could look up to, and he's down to earth," said Trump voter Michael Bowen, 47, outside of a grocery store in Heflin, near Alabama's eastern border. "He looks out for the little guy. I've been a big fan of Jeff's. I would really hate to see something bad happen to him, after all he's done."
"He has helped us personally, "said Charles Armbrust, 65, a white retiree in Moody, a half hour east of Birmingham, who called Trump a bully. He said Sessions helped get disability Medicaid status for his wife. "He has helped a lot of people. People from Alabama have been very happy with Sessions."
Of course, Alabama loved Trump too.
Huge Rallies
The state was the site of a 2015 Mobile rally so big that it became a signature moment in Trump's unlikely campaign: "He had those huge rallies here and he trampled former Secretary of state Clinton," said William Stewart, professor emeritus at the University of Alabama and a scholar of Southern politics.
"If Sessions should be fired, Alabama would not go back to being Democratic," Stewart said. "But it doesn't sit well. And that might be a problem for Trump. It's a very rude way to pay back loyalties, and people see that. Sessions gave up a Senate seat that he could have had for the rest of his life for the job."
Not all Trump fans are worried about Sessions. In Moody, former stock car racer turned piping engineer Ken Roper, 53, said Trump remains the best thing to happen to the U.S. since Ronald Reagan.
Trump must have a reason for attacking his attorney general, Roper said. "Anything Trump is doing to him is probably based on something Trump knows about him that we don't. Trump is straight up. He knows something."
Some of the most vocal critics of Trump's behaviors, meanwhile, don't particularly like Sessions or Trump.
"It's unfair and it's tacky," said Glenda Owen, 66, who is white and lives near the state border with Georgia. "I'm no fan of Sessions, but Trump is being awful."
Bryant, the Jefferson County GOP leader, heard similar statements at her church, which she described as full of Republicans, rather than Trump fans: "They were all talking about it at choir practice this week. People were just so angry."
Official Alabama has reacted too. The state GOP and Alabama's Washington delegation are pushing back, including U.S. Senator Richard Shelby and Representatives Martha Roby, Mo Brooks and Bradley Byrne. Trump's Alabama voters haven't abandoned him, but a Sessions firing could change that, Byrne said.
Sessions is "more than just pretty popular," Byrne said in a phone interview. "He's extremely well-respected, I would say even beloved, and with his new office, we're even prouder of him. I'm hearing from people who are concerned about him. They want him very much to do this job."
Bring Sessions Home
Whatever the political implications for Trump, some Alabamians are trying to get Sessions home.
Congressman Brooks is among 10 Republicans vying for Sessions' old Senate spot. He likened Trump's treatment of Sessions to water boarding this week, and offered to drop out of the Senate race if Sessions would come back and run. None of the other Republican contenders followed suit. The state party has the power to put Sessions on the general election ballot, instead of whomever wins next month's primary.
Stan Pate, a Republican Tuscaloosa real estate developer and outspoken Never Trumper who has backed Sessions since the beginning of his career, also wants Sessions to come home. He wants him to run for governor: "When you read what Trump has said, it translates to 'Resign or get fired.' You can't make up after that. I don't believe it's constructive for either of them to continue this. Alabama needs Jeff Sessions home."
Before it's here, it's on the Bloomberg Terminal.
LEARN MORE