Can Big Tobacco Really Quit Cigarettes?
By
The industry has spent billions developing lower-risk products

With tobacco stocks tumbling, the focus shifts to what's next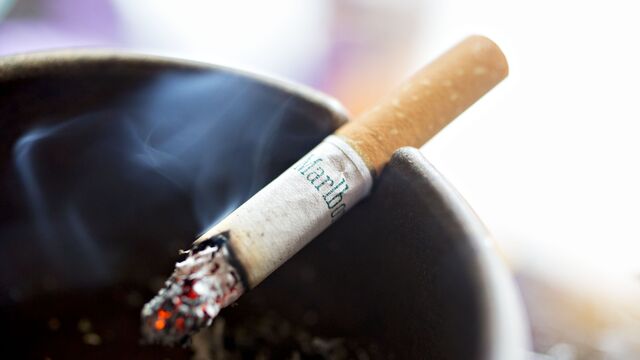 The tobacco industry's race to create less-harmful nicotine products just kicked into overdrive.
With U.S. officials pushing to cut the nicotine in cigarettes below addictive levels, there's new urgency to switch to next-generation smoking products that are higher-tech -- and purportedly lower-risk.
Philip Morris International Inc. and other big tobacco companies have been planning for this future for years, spending billions of dollars developing alternatives to combustible cigarettes. But a regulatory crackdown could force them to speed up those efforts -- and convince investors that Americans are ready to ditch traditional smokes after more than a century of puffing away.
"This was a big surprise and will make it imperative that domestic tobacco companies strive to develop innovative, safer products," said Jack Russo, an analyst at Edward Jones & Co.
The U.S. Food and Drug Administration dropped the bombshell on Friday, proposing to reduce nicotine levels to nonaddictive levels in a bid to save lives. The agency, which oversees tobacco regulation, will take public input on the idea. It's still unclear what form the new rules may ultimately take.
But investors reacted to the news as if the days are numbered for traditional cigarettes. Shares of Altria Group Inc. and British American Tobacco Plc, the two largest sellers of cigarettes in the U.S., both plunged on Friday. The companies each suffered the biggest single-day tumble since the recession in 2008.
New World
The FDA's plan, which could be one of the most sweeping efforts to reduce smoking since 1965, seems to strike a more adversarial tone with the $130 billion industry.
"When nicotine is attached to cigarette smoke particles, it's not only highly addictive, but an addictive chemical mix of disease and death," FDA Commissioner Scott Gottlieb said in a briefing. "We need to envision a world where less harmful alternative forms, efficiently delivering satisfying levels of nicotine, are available."
But in some ways the FDA announcement was in line with Big Tobacco's own messaging. Philip Morris Chief Executive Officer Andre Calantzopoulos has spent much of the past year saying that traditional smoking is on the outs. A former smoker himself, he now uses a next-generation device called iQos. 
Read more: The tobacco industry catches startup fever
Calantzopoulos says he envisions a smoke-free future, when all of his customers have switched to healthier options.
BAT's Reynolds American division echoed that sentiment in the wake of the FDA announcement.
"These principles have long been the core of our efforts in transforming the tobacco industry," the company said in a statement.

Philip Morris, which sells brands such as Marlboro outside of the U.S., has been the most aggressive in planning for the end of cigarettes. The company has spent spent more than $3 billion developing a reduced-risk portfolio -- including the iQos system, a pen-like gadget that heats a tobacco plug.
It's working on the effort with sister company Altria, which caters to the U.S. market. The iQos releases nicotine without setting it on fire, an approach that's seen as less risky. The product is available in 27 cities overseas, and will be in 30 to 35 by the end of the year.
Read more: The debate over cigarette alternatives -- a QuickTake
The FDA's blessing is key to the product's success in the U.S.
Philip Morris has submitted two applications to the agency for iQos. The first, filed in December, would allow the product to add a label indicating that it's less harmful than regular cigarettes. The FDA announced in May that it will begin reviewing the application, which is more than 2 million pages long.
Setting Stage
The second application, filed in March, is the prerequisite to sell the product in the U.S. The FDA's response to that application could come as soon as this year. If approved, Altria will sell iQos under a licensing agreement.
Philip Morris and Altria aren't alone in trying to get in on the U.S. reduced-risk market. BAT, which just completed its $49 billion acquisition of Reynolds American, plans to submit applications to the FDA for its Glo in 2018.
"It's going to be an important category and we want to win there," BAT Chief Executive Nicandro Durante said in an interview earlier this week. "We want the approval as soon as possible."
Cigarettes still make up the vast majority of tobacco-company revenue. And though e-cigarettes and other vaping products are growing more popular, they haven't proven to be as much of a boon to the tobacco giants as expected -- in part because it's a fragmented market.
That puts pressure on more high-tech platforms (the iQos, pronounced "I-kose" looks more like an Apple device than a traditional cigarette). The FDA also signaled on Friday that it may encourage more innovation in developing alternatives to smoking.
"This could prove to be an opportunity over the long term for reduced-risk products," Bonnie Herzog, an analyst at Wells Fargo & Co., said in a note. Altria and Philip Morris, having laid the groundwork with iQos, may soon see the benefits.
"They have a unique competitive advantage," she said.
Before it's here, it's on the Bloomberg Terminal.
LEARN MORE