Magnus Bocker, Former Singapore Exchange CEO, Dies at 55
By
Bocker was a driving force for change, had fresh insights: SGX

He wanted to help small investors, industry group says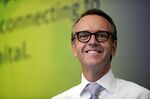 Magnus Bocker, the former chief executive officer at Singapore Exchange Ltd. and president of Nasdaq OMX Group Inc., has died of cancer. He was 55.
"We will remember him for his infectious optimism, fresh insights, and energetic approach to just about anything, from music to cars to the exchange business and his belief in SGX," Singapore Exchange said in a statement Friday. He was a driving force for change, the company said.
Bocker started at OMX AB in 1986 after receiving a degree in business from the University of Stockholm. He was made CEO of the Swedish exchange operator in 2003, taking over after two years of losses following a failed bid for London Stock Exchange Group Plc in 2000. 
Bocker helped engineer the 2008 deal to sell OMX to Nasdaq for $4.9 billion. He then moved to New York as president of the combined organization. In 2009, he quit to head the Singapore exchange.
Another exchange deal, an A$8.3 billion ($6.6 billion) takeover bid for Australia's ASX Ltd., was a feature of his time at SGX, where he also helped develop the company's derivatives business. The ASX pact was blocked by the Australian government on the grounds of national interest. Bocker stepped down from Southeast Asia's largest exchange operator in June 2015.
"He had genuinely wanted to help the small investor," said David Gerald, CEO of the Securities Investors Association of Singapore. "He came forward despite the tough times he was going through with his health."
Bocker, an avid marathon runner, was appointed honorary chairman of the investor group in February.
Before it's here, it's on the Bloomberg Terminal.
LEARN MORE