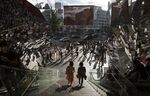 Japan's labor market is the tightest it's been in decades, the latest data from the labor ministry show. Unemployment equals a two-decade low of 2.8 percent and the ratio of jobs-to-applicants is the highest since the mid 1970s.
Getting more women into the workforce was is one way of easing the shortage that these numbers represent, and it's one of Prime Minister Shinzo Abe's goals. With an aging society, he knows Japan needs more people working to keep the economy moving forward.

While there's been some success in getting more women in the workforce, the problem is that many of them are taking low-paying, part-time and temporary jobs, rather than joining the ranks of Japan's full-time salaried employees.
And although wages for part-timers have grown steadily, that doesn't mean that they're actually bringing more cash home. As wages have moved up, part-time workers have consistently worked fewer hours, meaning their income has remained largely unchanged.
One explanation for this trend are tax deduction and social welfare rules that encourage spouses to limit their income so the household can lower its total tax burden.
And a continuing shortage of childcare spots isn't helping women take up full-time work. 

So while there has been progress, there's still a lot of work to do in fully utilizing the skills and abilities of a large portion of Japan's workforce -- unemployed and underemployed women.
Before it's here, it's on the Bloomberg Terminal.
LEARN MORE