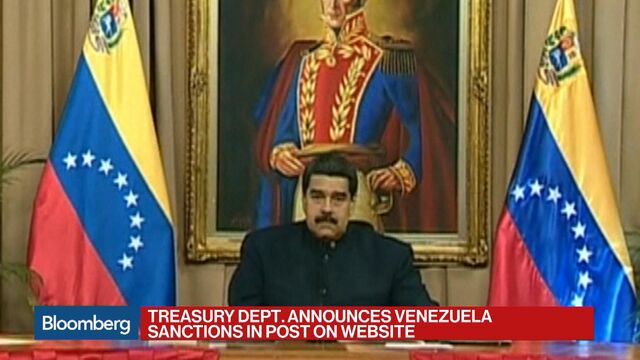 True to his threat, Venezuela's president, Nicolas Maduro followed through with an election on July 30 to convene a constituent assembly tasked with changing the country's constitution. His adversaries opposed the move as an illegal power grab and called the election fraudulent, warning that Maduro will stack the assembly with his supporters and accusing the National Electoral Council of grossly overstating the total vote count. With international opposition building, U.S. President Donald Trump also followed through with his warning of "strong and swift economic actions" should Maduro proceed, with the Treasury Department on Monday sanctioning the Venezuelan leader and freezing any assets he might have under its jurisdiction. Steven Mnuchin, the Treasury Secretary, called him a dictator and said other measures were still on the table.
1. How did Maduro respond to the U.S. sanctions?
In typical Maduro fashion, he celebrated them, stating that he was proud to be sanctioned and promising not to obey what he described as "imperial orders." On Tuesday, opposition leaders Leopoldo Lopez and Antonio Ledezma were whisked away by secret police with guns drawn in overnight raids and transferred from house arrest back to prison. After 13 of his close aids were sanctioned by the U.S. last week, he presented them with ceremonial swords in a nationally televised address.
2. What does Maduro most want to change in the constitution?
Since announcing his plan to convoke "la constituyente" in May, Maduro has been vague about what he wants to achieve or why the country needs it, other than to say the body will be a "grand dialogue," an "encounter," and an opportunity for Venezuelans to "live in peace and end the violence." He's also said the opposition will be defeated once and for all. Other members of his cabinet have said that already strict economic controls and regulations should be strengthened. The only thing certain is that, once its sworn in, Venezuela will wake up to a different country, and no one really knows what comes next.
3. Does this mean Venezuela is a dictatorship?
The constituyente certainly represents an escalation of recent steps in that direction. Once installed, it will preside over all other branches of government, and it alone will be able to determine how long it should remain in power. Analysts expect Maduro to quickly use the body to force out Luisa Ortega Diaz, the public prosecutor who has emerged as his fiercest critic from within the ruling socialist party. Critics also worry that the new assembly could delay scheduled regional and presidential elections that most polls show the government couldn't win.
4. How else has Venezuela moved away from democratic rule?
Maduro's critics say the first major rupture to Venezuela's democracy occurred last year when the electoral authority and local courts moved to scuttle a recall referendum on his rule, even after the opposition followed the rules outlined in the current constitution. Continued attacks on the powers of the opposition-controlled National Assembly by the Supreme Court, which backs Maduro, have also caused many to question Venezuela's status as a democracy. Other authoritarian signs: More than 3,000 people have been arrested since March, and more than 110 protesters have died in clashes with pro-government forces over the past four months.
5. What is a constituent assembly, anyway?
It's a constitutional convention called by the president and made up of elected delegates. It has the power not only to revise the constitution but to write a new one, or to disband or replace branches of the government. The last such assembly was called in 1999, when former President Hugo Chavez oversaw the crafting of the current constitution, replacing one written in 1961.
6. Will its legitimacy be questioned?
Almost certainly. While the National Electoral Council said more than 8 million people participated in the vote, opposition officials and private exit polls placed total participation at less than half of that. Colombia, Peru, Argentina and Panama, among other countries, put out statements saying they wouldn't recognize the vote. The installation of the assembly also comes with Maduro's popularity at an all time low of around 17 percent. It's also worth noting that voters were not asked if they even want the assembly, which polls say only about 20 percent of Venezuelans supported. With the opposition boycotting the process altogether, all the names on the ballot were presumed Maduro supporters, and only about 25 of them were known politicians. There was no way the government wasn't going to win.
7. What happens next?
The assembly is expected to be installed by Aug. 3, and it will then have to chose its leader. Whoever that turns out to be could become one of the country's most powerful people. It remains to be seen if the post will will go to a member of Maduro's inner circle or if goes to a rival faction within the socialist party. Diosdado Cabello, a power broker with strong ties to the military, is rumored to be interested in the post.
8. What might happen to Venezuela's oil?
While the U.S. has so far held off from broader economic sanctions, the mere threat of restricting the country's oil exports is a powerful tool that could push the country closer to the brink of disaster. The U.S. is Venezuela's largest market, and oil accounts for 95 percent of its foreign currency earnings. While Maduro could eventually re-route the oil to other markets in Asia, he'd have to accept a steep discount and transport costs would rise. Any disruption to the country's cash flow would immediately heighten fears of a default on the country's foreign debt, with around $5 billion due this year alone. Investors are increasingly worrying about this possibility, with credit default sways showing the chance of nonpayment over the next 12 months rising to 63 percent.
The Reference Shelf
— With assistance by Fabiola Zerpa
Before it's here, it's on the Bloomberg Terminal.
LEARN MORE