Hammond Envisages 'Business as Usual' Brexit Transition
By , , and
Chancellor says this period could last up to three years

Hammond indicates European judges could have transition role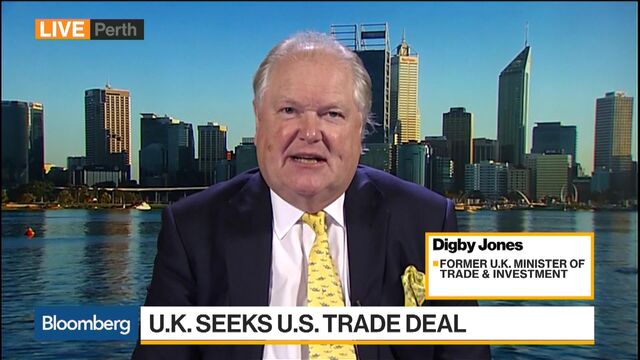 Chancellor of the Exchequer Philip Hammond outlined the most detailed vision yet of his plan for Britain the day after Brexit, offering businesses the prospect of an extended transition period that would allow trade with Europe to continued undisrupted.
"We have to develop a plan that will deliver for the British people business as usual, life as normal," he told BBC Radio 4, spelling out that there's now consensus in the government that a smooth departure will take time.
Read more about what kind of Brexit experts envisage: hard or soft?

The Financial Times reported Friday that Hammond had told businesses he supported a two-phase transition, with a "standstill" phase followed by an "implementation" phase. He declined to comment on what he called private discussions but said on Friday in interviews with the BBC that people should expect few changes the day after Brexit in 2019.
He also opened the door to European judges having a say over the implementation of any transitional deal -- something that has been taboo for the most ardent supporters of Brexit. The role of the European Court of Justice has still to be discussed, as he laid out the option of a halfway-house solution.
A to B
"How we get from A to B is the crucial question," Hammond told BBC Radio 4 as he made clear that any transition period should end by the time of the next general election in 2022."
"On the first day after we leave the European Union of course many things will look similar because that's the starting point," he said. "The question is what happens next; how we then manage the process in a way that allows British people and British business to get on with their lives."
Some advocates of Brexit had resisted a long transition period for fear that Britain's departure would be permanently delayed. When Prime Minister Theresa May set out her Brexit strategy in January, she talked about industry-specific transition arrangements. That was before her election humiliation forced her to engage both with business and members of her cabinet. Hammond said the government now wants an overall transition deal.
He said it was difficult to be more precise because the final deal wasn't yet known. In some areas, the British government has yet to decide what it wants. May only began formal engagement with businesses after her election blow. The Home Office on Thursday announced a year-long study into the impact of EU migration on Britain.
The shift in cabinet thinking can be seen in the language used by Trade Secretary Liam Fox and Environment Secretary Michael Gove, who both campaigned for Brexit.
Change of Tune
In December, Fox warned that transitional measures risked "diminishing" the will of voters. On July 13, he said he'd be "very happy" with an arrangement that lasted "a few months." Ten days later, he suggested they could last two years, and said the important thing was that they ended by 2022.
"With recognition of the realities of the Brexit process among senior politicians moving faster than we had thought, the likelihood that agreement on transition can be reached with sufficient time for the UK to see an "initial" exit in March 2019 is rising," Malcolm Barr, an economist at JPMorgan Chase & Co. said in a note to investors.
Barr increased the chance of a time-limited transition period based around the status quo to 5O percent from 35 percent, and cut the chances of talks collapsing without a deal to 5 percent from 10 percent.
On the question of the role of the European Court of Justice in arbitrating disputes -- something May has consistently opposed -- Hammond hinted at a new tribunal, along the lines of the one used by members of the European Economic Area.
"There are various models, for example some of our non-EU European neighbors already operate with the European Union in a close association with the European Union through the EEA and they have their own special tribunal to resolve any disputes," he said. "It's one option, we haven't even begun discussing that process yet."
A key factor in all this is what the EU will allow as it dictates the pace of talks. The EU signaled on Friday that a transition period can only be agreed after the separation terms.
"Concerning the transition period, you know very well what our chief negotiator tends to say on that subject, which is that once you know where you are going you can also consider the modalities of getting there," EU spokesman Alexander Winterstein said in Brussels. "So I will not start commenting on the sequencing; the next round is at the end of August; and then we will take it from there."
— With assistance by Jones Hayden
Before it's here, it's on the Bloomberg Terminal.
LEARN MORE