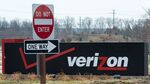 Everyone loves a good megadeal rumor, but it's time to move on from this one: Comcast Corp. and Verizon Communications Inc. probably aren't getting together.
It's the latest in a series of M&A ideas involving cable providers, wireless carriers and TV programmers -- all because AT&T Inc. struck a deal last year to buy Time Warner Inc. 

The chatter a few weeks ago was that Verizon will buy Walt Disney Co., a deal that would look similar to AT&T-Time Warner. The only problem, as I explained then, is that Verizon couldn't afford Disney even if it wanted. Then came the comical suggestion that the hot mess that is Sprint Corp. will get to link up with Warren Buffett. And so on. 
A merger of Comcast and Verizon does have more strategic merit than those others. Citigroup Inc. analyst Jason Bazinet feels so strongly about it that he even downgraded Dish Network Corp. to a sell this week on the premise that if Comcast takes his advice and buys Verizon, then Dish gets left out in the cold.
Comcast and Verizon would certainly love to become more powerful, not to mention diversified as retaining subscribers gets tougher for both of them. Combined they represent $380 billion of shareholder value and are each No. 1 in the U.S. in their respective industries of cable and wireless. But it's also for those reasons that regulatory approval would be difficult. And this week's quarterly results only pushed odds of a deal lower.
Verizon did much better in the second quarter than the first, when it shed a record number of customers. New unlimited data plans -- which it was essentially forced to offer because of an industry price war -- are bringing people back. Revenue rose for the first time in five quarters. But this just underscores that it doesn't have much pricing power anymore, as smaller rivals catch up just enough in coverage and quality to make plan costs the distinguishing factor. Sprint, bless its financially challenged heart, is going directly after Verizon customers, offering them a year of free service. Verizon is far and away the leader, but its superior profit margins may not be so safe.

As for Comcast, it lost TV customers in the quarter, as expected. Still, revenue for the unit -- which includes cable, high-speed internet and business services -- rose more than 5 percent. That's in large part thanks to Comcast's pricing power. It doesn't have much competition in the areas where it operates, unlike Verizon, which competes nationally against its three big rivals. And while there is the threat of 5G, the ultra-fast next generation of wireless networks, most people will probably still need broadband like Comcast offers for home usage.

Plus, Comcast launched its own wireless service in June targeting current Xfinity subscribers. It appears to be making this expansion cautiously and taking the challenges in stride. CEO Brian Roberts had this to say on Thursday's earnings call:
We really feel we're not missing anything ... No disrespect to wireless, it's a tough business ... I don't see something happening in that industry that we envy a position that we don't have today.
CEOs shoot down M&A speculation all the time, so his remarks alone don't necessarily preclude any deal -- whether with Verizon or T-Mobile US Inc., which I see as the more likely target if Comcast wanted to add customers and spectrum. Still, Roberts is assuring investors that Comcast's core cable business and its NBCUniversal entertainment division remain the focus. That's significant because if Comcast were to attempt a Verizon acquisition, regulators would assuredly force asset sales in some effort to protect consumers. 1  When push comes to shove, is Comcast really willing to give up cable assets?
When I try to make sense of the industry matchmaking, the most sensible pairings seem to be T-Mobile-Sprint or Comcast-T-Mobile, Verizon-Dish, and Discovery Communications Inc. buying Scripps Networks Interactive Inc. As far as Disney goes, more merger options would likely appear if it were to split itself up. Even a merger of Verizon and CBS Corp. -- another possibility that has come up -- seems like it'd be a culture clash that trumps any strategic or financial suitability. (Although, the same could be said for AT&T and Time Warner, so we'll have to see.)
Give deal-watchers credit for thinking outside the cable box, but here's the bottom line: Comcast doesn't need Verizon. Next, please.
Before it's here, it's on the Bloomberg Terminal.
LEARN MORE