Armyworm Invasion Destroys Corn, Rice Crops in Burkina Faso
By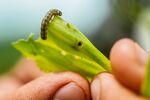 An invasion of fall armyworms has damaged more than 30,000 hectares (74,132 acres) of farmland spread over 13 regions in Burkina Faso, according to the Agriculture Ministry.
The caterpillars have attacked corn, sorghum, rice and other cereals in the West African nation, and the damage may be more widespread as the government is still assessing the affected areas, Moussa Ouattara, a crop protection director at the Agriculture Ministry, said by phone Friday. The pest "attacks mainly corn, but when there's no corn they attack other crops," he said.
Fall armyworms have ravaged crops from Zambia to Ghana since arriving in Africa from the Americas last year. Armies of the black-striped caterpillars can span miles and march through fields in densities of 1,100 per square meter (10.8 square feet).
The government has spent 1.3 billion CFA francs ($2.3 million) distributing insecticide to fight the outbreak, but has appealed to farmers to buy their own pesticides, Ouattara said.
Before it's here, it's on the Bloomberg Terminal.
LEARN MORE