Libor's Fall and Why Yawns Are Worse Than Scandal: QuickTake Q&A
By and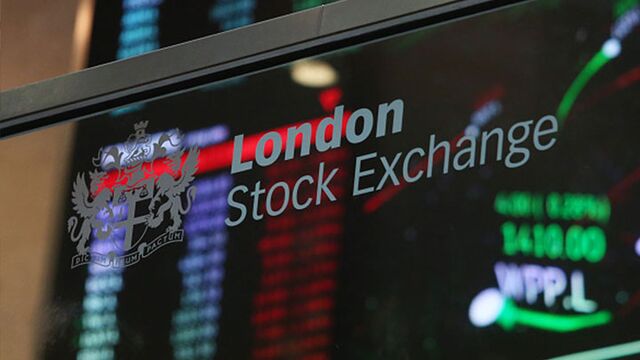 After years of scandal, the London interbank offered rate, or Libor, is heading for the financial grave. By 2021, the benchmark that underpins more than $350 trillion of financial products will be phased out. Its demise, announced by a U.K. regulator, wasn't so much a result of the corruption cases that generated some $9 billion of banking fines. Rather, it was something more mundane: The data used to calculate it just ain't there. Now, financial authorities must scurry to find a replacement.
1. What exactly is Libor?

It's the most commonly used benchmark for setting interest rates on everything from student and car loans to mortgages and credit cards. Countries that rely on Libor include the U.S, Canada, Switzerland and the U.K., but its reach is global. For a U.S. dollar-denominated loan taken anywhere in the world, chances are it will use Libor. The benchmark was set up by the British Bankers Association in 1986 as a way to price syndicated loans and interest-rate swaps, but its use soon ballooned. Submitted by a panel of lenders each morning, Libor is the average rate a group of 20 banks estimate they'd be able to borrow funds from each other in five different currencies across seven time periods.
2. What's the problem with Libor?
Because fewer banks now make such unsecured loans, Libor doesn't always reflect actual practice. And because it doesn't always reflect actual transactions, it's prone to manipulation. Regulators and prosecutors, after the 2008 financial crisis, found that firms around the globe had colluded to set the benchmark at levels that would benefit their own Libor-linked portfolios. Large European and U.S. banks paid billions of dollars to settle rigging and other charges.
3. Weren't those issues addressed?
That was the intention. In 2013, officials from more than 50 countries published a set of principles to make benchmark rates more transparent, including using data from real trades wherever possible, minimizing conflicts of interest and making specific individuals responsible for rate-setting at each firm. Libor's administration was overhauled. Intercontinental Exchange Inc. took over with the aim of making the rate more transaction-based. And the Financial Conduct Authority began regulating Libor in the U.K. It was the FCA that called time on the benchmark.
4. What was the rationale?
The U.K. regulator found that the market supporting Libor was no longer "sufficiently active" to determine a reliable rate. For one currency and lending period there were only 15 transactions in 2016. As Andrew Bailey, head of the FCA, put it: "The absence of active underlying markets raises a serious question about the sustainability of the Libor benchmarks. If an active market does not exist, how can even the best run benchmark measure it?" The regulator said alternatives must be found.
5. What are the alternatives?

The Bank of England said in April a swaps-industry working group had proposed replacing the use of Libor in contracts with the Sterling Overnight Index Average, or Sonia, a near risk-free alternative derivatives reference rate that reflects bank and building societies' overnight funding rates in the sterling unsecured market. In June, a U.S. government body, the Alternative Reference Rates Committee, recommended replacing Libor with a new, broad Treasuries repo rate, linked to the cost of borrowing cash secured against U.S. government debt. The committee will give further details later this year. Switzerland is replacing its own key swaps rate, TOIS, on Dec. 29.
How Wall Street plans to replace Libor: a QuickTake Q&A
6. Why might the new rates be better than Libor? 

One big reason is that they will reflect real, not hypothetical, transactions and thus may be impossible to manipulate. The broad Treasuries repo rate, for example, is based on about $660 billion in daily transactions. While Libor would be tough to wind down, most told the FCA it could be done in four or five years. The FCA has asked banks to continue submitting rates until the end of 2021.
The Reference Shelf
— With assistance by Liz McCormick
Before it's here, it's on the Bloomberg Terminal.
LEARN MORE