Technology
This Tech Startup's Youngest Founder Is 75
Infosci, at work on anti-hacking software, is run by the older set. "They've been exposed to the nastiest stuff for decades."
By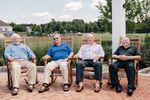 On paper, Infosci looks like a lot of startups whose founders travel Sand Hill Road in search of venture capital. It has the dropout, the ex-CIA guy, the experienced startup seller—and they say they have a way to protect against a key type of cyberattack. But when the three arrive for meetings with potential investors, they aren't wearing hoodies and flip-flops. The main founders are all 75 to 80, and they're motivated sellers.
"If we were all 40 years old, we'd be going out, raising a couple million dollars, building a company, taking on RSA," says John Ellingson, the startup seller, referring to the well-known encryption system. "Since the youngest of us is 75, we have to have a different exit plan."
John Kittelberger, 75, is the dropout (high school). He's also the businessman, the former owner of a plumbing business in the suburbs of Washington, D.C. Phil Dean, 80, spent 30 years handling technical operations at the CIA, was one of the original members of the agency's Counterterrorism Center, and likes to travel by unicycle. Ellingson, also 75, is a lawyer specializing in identity theft who two decades ago cashed in on a fraud detection system he'd invented. "We call ourselves the plumber, the spy, and the nerd," Ellingson says. Company meetings are often held at various Panera Bread Co. franchises.
The Infosci founders have been working on a software design they say would protect against hacks such as the one that breached the U.S. Office of Personnel Management in 2014. That attack exposed the personal information of 22.1 million Americans, including identifying information such as Social Security numbers and background-check files on people who'd done business with or worked for the government. Ellingson says he and Dean numbered among those who had personal data stolen.
What made the OPM hack so effective was that the attackers fooled the agency's network into accepting them as trusted contractors by using shared secret codes of the kind that typically undergird the most secure systems. Because these codes usually don't change, the hackers were able to pull off the deception for more than a year. Infosci has designed security software that changes such codes as often as 1,000 times a second, so that cracking a given code won't do anyone much good.
Although this idea may sound familiar to cybersecurity wonks, usually this type of security measure has at least one certificate or some such that can't change because it's the piece of data that identifies a given user. Infosci's software design doesn't leave that component unchanged. "The truth is, you can't keep any secrets," Ellingson says, so the company is taking long-term secrets out of the equation.
Alex Doll, managing partner at TenEleven Ventures, says Infosci has picked an especially competitive part of the security field. Even in youth-hungry Silicon Valley, however, years marinating in government security operations are an asset, says Dan Conde, an analyst at researcher Enterprise Strategy Group. "If they are bona fide good-scientist types, they have a lot of things spring chickens won't be able to do," he says. "They've been exposed to the nastiest stuff for literally decades. They know the darkest, weirdest things that could happen."
The founders say their age helped them get to the front of the line at the U.S. Patent and Trademark Office, which they expect to award them a patent on Aug. 1. (There's a fast track at the patent office for inventors over 65.) For now, the three-person company is running on $650,000 of funding from family, friends, and IT contractor Nuvitek LLC. An early version of the product is running on Amazon Web Services Inc., and Infosci says it's ready to start licensing the technology.
But forget about spending years honing their business. This group wants to get just far enough to attract a buyer such as Dell Technologies Inc. or Alphabet Inc., or perhaps a private equity company. Ellingson says he hopes to start soliciting bids as early as possible. In a twist on the typical Silicon Valley ethos, the Infosci team is looking to move fast and hit the golf course. That doesn't mean they'll sell cheap. Ellingson says he's learned a thing or two since selling his last invention for $2 million. "We weren't so smart back then."
BOTTOM LINE -
Infosci's septua- and octogenarian founders are looking to flip their security company as soon as the technology is ready.
Before it's here, it's on the Bloomberg Terminal.
LEARN MORE