Second-Quarter Rebound Obscures Same Reality for U.S. Growth
By
GDP figures to reflect dissipation of some temporary factors

Economy chugs along without chance for major acceleration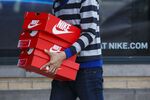 Consumers probably spent enough last quarter to help U.S. growth rebound from a tepid start to the year. The rest of the economy is giving less of a lift, and the pickup is unlikely to last.
Gross domestic product expanded at a 2.7 percent annualized rate from April to June, according to the median estimate in a Bloomberg survey ahead of figures due Friday. While that would be an improvement over the first quarter's 1.4 percent, some of the upswing owes to the dissipation of temporary factors such as low heating bills, delayed tax refunds and volatility in inventories. Meanwhile, a gangbusters pace of business investment earlier in 2017 may have eased to a more sustainable rate.
It adds up to a first half where the economy looks much like it did in years past: growth of around 2 percent, with consumption doing the heavy lifting. The pace is in line with that of the eight-year expansion, even though President Donald Trump's election victory had sent U.S. consumer and business sentiment soaring on hopes that lawmakers would loosen regulation, lower taxes and boost infrastructure spending -- moving growth toward Trump's 3 percent goal.

Now reality is setting in, with some of the post-election buoyancy retreating amid Washington gridlock on health care and taxes. While a solid job market has helped underpin growth, wage gains remain modest, and key measures such as auto and retail sales have been disappointing in recent months. Economists see U.S. growth easing back to around the average of this expansion following the second quarter.
"It's hard to become too optimistic when you're talking about an economy that's running at about 2 percent," said Michelle Meyer, head of U.S. economics at Bank of America Corp. in New York. "There's very little chance for much acceleration. Nonetheless, growth is ongoing. The unemployment rate has gone down, job growth is fairly steady and the consumer should continue to spend."
Consumers, Companies
Consumer spending, which accounts for about 70 percent of GDP, probably accelerated to a 2.8 percent annualized pace of growth in the second quarter after a 1.1 percent rate in the prior period that was the weakest in almost four years, based on the median estimate of economists. 
Business investment, by contrast, may have slowed, according to the Federal Reserve Bank of Atlanta's GDPNow estimates: Equipment spending rose at a 4 percent pace after a 7.8 percent gain; spending on nonresidential structures, including oil and gas wells, eased to a 1 percent gain from an annualized 22.6 percent; and residential investment shrank 1.8 percent, after a 13 percent advance.
Other components are shifting, too. Trade's contribution to GDP may have turned into a drag from a gain, and inventories added to growth following a subtraction of more than 1 percentage point, the Atlanta Fed's estimates show.
"Business fixed investment was up big in the first quarter, and a big part of that was the rebound in energy exploration," said Scott Brown, chief economist at Raymond James Financial Inc. in St. Petersburg, Florida. Second-quarter figures should still reflect some of that sector's gains as well as optimism on the part of businesses, but they probably won't be "quite as strong" as the prior period, Brown said.
Thursday Data
Figures released Thursday showed a narrower-than-projected merchandise-trade deficit in June, builds in wholesale and retail inventories, and a pickup in durable goods stockpiles at manufacturers. That encouraged some economists to boost their second-quarter growth estimates. JPMorgan Chase & Co. analysts raised their projection to a 3.5 percent annualized rate from 3 percent. Barclays Plc researchers upgraded theirs to 2.7 percent from 2.4 percent.
Read more: Bloomberg Intelligence analysis of Thursday's figures
Friday's release from the Commerce Department, due at 8:30 a.m. in Washington, also includes annual revisions to data spanning the last three years.
Markets seem to be taking sides when it comes to the direction of the economy. Stocks have reflected rising optimism, reaching fresh records this week on generally positive earnings reports from companies including Caterpillar Inc. and McDonald's Corp. On the other hand, yields on benchmark 10-year Treasuries have slipped from post-election highs, suggesting a more restrained view of expansion.

What could help the expansion are fatter wage gains, which also have the potential to feed into inflation that's slipped away from the Fed's 2 percent goal over the past few months. Excluding food and energy, the Fed's preferred price index is estimated to have risen at just a 0.7 percent annualized rate in the second quarter, which would be the weakest gain since the last recession.
Fed policy makers said Wednesday that they still expect inflation to stabilize around the target "over the medium term," as they signaled a start "relatively soon" to reducing the size of the central bank's balance sheet.
Further economic gains could be constrained by the tight labor market, as employers in many regions have been reporting difficulty for months in filling skilled positions. A crackdown by the Trump administration on undocumented immigrants may also be hitting consumer spending, as well as hurting the ability of companies to find basic laborers.
Read more: How GDP became the measuring stick for a country's well-being
Even so, such constraints are so far seen as unlikely to seriously dent overall consumption or the job market. And while greater policy consensus in Washington could give companies more incentive to invest, both factories and service providers were already planning to boost capital spending by 5.2 percent this year, according to a survey released in May. Improving overseas markets and a declining dollar could also make American-made goods more attractive for customers abroad.
"The economy is still doing OK," said Brown of Raymond James. "It's not knocking the cover off the ball, but it's not terribly weak."
Before it's here, it's on the Bloomberg Terminal.
LEARN MORE