politics
Macron Stokes Decade of Italian Anger Since Zidane Headbutt
By
Relations sour as France stops Italian Purchase of STX France

French deals in Italy worth six times Italian deals in France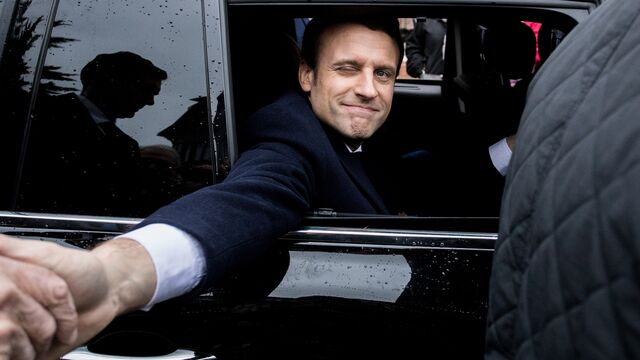 The 2006 World Cup final should have been a triumph for Italians, but all people remember now is the iconic French soccer captain Zinedine Zidane headbutting an opponent in the last minutes.
The controversy overshadowed much of the glory for the winning team that night and the subsequent carping of French fans convinced many Italians that their bigger, richer neighbor will never give them the respect they deserve, whether the field is sports, business or politics.
That resentment burst into the open this week. On Thursday, French Finance Minister Bruno Le Maire said his country will nationalize the STX shipyard in Saint-Nazaire after its would-be Italian buyer Fincantieri SpA didn't agree to share ownership of the asset equally. Fincantieri shares fell as much as 4.2 percent Thursday after falling more than 13 percent the previous day. Le Maire said during a press conference in Paris that the decision was made "to defend France's strategic interests in shipbuilding." The Italians have struggled to accept that rationale, given STX's previous owner was Korean.
Italian Finance Minister Pier Carlo Padoan said on Wednesday that there was "no reason" Fincantieri should agree to take only a minority stake, and Economic Development Minister Carlo Calenda told Ansa newswire that Italy was ready to walk away from the deal after Le Maire changed terms already agreed with the previous administration.
President Emmanuel Macron's June election victory may have reinvigorated the Franco-German relationship at the heart of the European Union. But ties with Italy, the continent's No. 3 economy, are going from bad to worse, suggesting that competition for jobs, security, and indeed glory, could quickly dampen hopes for tighter EU cooperation.
"This situation is not good for business and not good for European integration," Alessandro Ungaro, a security and defense analyst at Rome's Institute for International Affairs, said in a phone interview. "We were hoping for a more market-friendly and pro-European stance, but they're rejecting a European ally and reasonable industrial project in favor of a possible nationalization."

Italian officials were already angered by another incident earlier in the week. On Tuesday, Macron had snubbed their Prime Minister Paolo Gentiloni by leaving him out of peace talks in Paris with Libyan Prime Minister Fayez al-Serraj and Khalifa Haftar, leader of the country's powerful eastern-based military force.
Italy sees Libya, its former colony, as its sphere of influence. Privately many Italian officials blame French meddling for contributing to the collapse of the North African country's institutions. Italian Foreign Minister Angelino Alfano said there were "too many initiatives" on Libya that weren't being coordinated.
Getting Childish

Italy's front pages were filled with anger at the French. "Macron's blitz overshadows Italy," said La Stampa, later adding on its website, "Italy and France head for naval battle." Il Messaggero went with "Libya deal without Italy."
In response, Gentiloni invited the Libyan leader al-Serraj to Rome and held his own press conference on television to reassert his influence.
"This is getting a bit childish," said Sofia Ventura, a professor of politics at the University of Bologna, whose father is Italian and mother is French. "The problem is individual countries are looking after their interests and not really keeping with the European spirit. Among the bigger nations, Italy is weaker, it can't fully compete."
That's the crux of it.
The past decade has been a period of economic decline for Italy that has left its companies vulnerable to foreign predators, and France has been particularly acquisitive.
France Takes Over
French companies have announced at least $42 billion in Italian takeovers in the last five years, including Essilor International SA's deal to buy Luxottica and Amundi SA's acquisition of UniCredit SpA's Pioneer Investments, according to Bloomberg-compiled data. That's six times Italian purchases in France. Since 2011, Lactalis SA gained control of Italian dairy giant Parmalat SpA, Electricite de France bought energy company Edison SpA and LVMH acquired jeweler Bulgari and fashion brands Fendi and Loro Piana in what some Italians saw as an invasion of their territory in the fashion industry.
"It has been mostly a one-way relationship, with France dominating also based on recent history and economic trends," Yannick Naud, a French investor at Banque Audi in Geneva, said by phone. "The same tension is replicated in food and on the soccer pitch."
Indeed, the years since that final in Berlin have been similarly cruel to Italian soccer. Where the success of AC Milan once helped drive the political rise of its owner, Silvio Berlusconi, the money that made the Italian league Europe's best in the 1990s has dried up and Milan was sold to foreign investors earlier this year.
"Italy in this game is weaker than some of its neighbors," said Ventura -- referring to geopolitics rather than soccer. "It's like a ceramic vase banging about with iron ones, and we know which one risks breaking."
— With assistance by Gregory Viscusi, Chiara Albanese, and Helene Fouquet
(
Adds Le Maire comments from press conference in third paragraph.
)
Before it's here, it's on the Bloomberg Terminal.
LEARN MORE