Lloyds's New Look Overshadowed by Old Scandal as Charges Climb
By
Bank set aside more than 1 billion pounds for PPI, other costs

Adjusted pretax profit beat estimates after MBNA purchase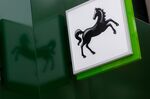 Lloyds Banking Group Plc Chief Executive Officer Antonio Horta-Osorio keeps getting tripped up by his bank's past misconduct.
The payment protection insurance scandal once again overshadowed the lender's attempts to move forward, contributing to more than 1 billion pounds ($1.3 billion) of conduct charges in the second quarter. The bank's shares dropped despite underlying profit topping estimates on lower-than-expected loan impairments and higher interest income.

Horta-Osorio made steps toward shaping Lloyds's future in the quarter, including the acquisition of a major credit-card business and the return to private ownership nine years after the financial crisis. Yet the period was still marred by the lender adding to its PPI reserve for consumer compensation for a 17th time.
"Overall this is a strong set of numbers from Lloyds, blighted by misconduct costs," said Laith Khalaf, an analyst at Hargreaves Lansdown. "The board will be hoping that the PPI provisions it's now made will see the bank through. The light at the end of the tunnel is now in sight."
The lender took a 700 million-pound PPI expense in the second quarter, raising the total cost to more than 18 billion pounds. It also booked 340 million pounds in other conduct charges in the quarter, including costs of a new program to reimburse fees tied to the handling of mortgage arrears.

Lloyds's shares dropped 2.2 percent to 67.54 pence at 10:07 a.m. in London, the biggest decline in more than a month.
Six years after the bank started paying out compensation to consumers, claims are still flooding in, exceeding the company's expectations. The additional provision covers 9,000 claims per week through August 2019, the lender said Thursday. Chief Financial Officer George Culmer said he couldn't rule out another increase to reserves.
"In the retail business there will always be mistakes made and we will have to redress people," CEO Horta-Osorio said on a call with reporters. "We are obviously hopeful and committed that our current business practices will put this legacy behind us, and we will go to a more appropriate level."
Underlying Beat
Executives are trying to get investors to focus on the future of the bank, hailing the "successful transformation" of the firm into a "simple, low risk, U.K. focused retail and commercial bank." Lloyds showed progress on that front, boosting its annual forecast for net interest margin and credit quality.
Excluding the conduct costs and other exceptional charges, Lloyds reported a second-quarter pretax profit of 2.41 billion pounds, beating the 1.98 billion-pound average estimate of five analysts compiled by Bloomberg News. Including them, pretax profit fell 31 percent to 1.24 billion pounds.
Lloyds has about 97 percent of its business in the U.K., meaning its fortunes are tied to the performance of the British economy as the nation hammers out a divorce from the European Union. The International Monetary Fund cut the U.K.'s growth forecast after a disappointing start to the year, while upgrading the outlook for many European countries.
Loan impairments rose to 141 million pounds from 96 million pounds a year earlier. That was well short of estimates for 240 million pounds from analysts at UBS Group AG and 283 million pounds from Citigroup Inc. analysts.
Card Growth
The bank improved its financial guidance after the purchase of Bank of America Corp.'s MBNA U.K. division, which almost doubled the size of its credit-card portfolio just as the BOE warned of a "spiral of complacency" in consumer lending driven by years of low defaults and falling unemployment.
Lloyds bought MBNA for 1.9 billion pounds last month in an attempt to diversify the bank's mortgage-dominated balance sheet, as record-low interest rates depress profitability on secured home-lending. Horta-Osorio said today the bank "intends to grow" in card finance as it's "significantly underrepresented" in the market.
The government sold its last remaining shares in Lloyds in May after almost a decade of ownership -- netting a 894 million-pound profit in the process -- and Horta-Osorio is preparing a new strategy to be unveiled next year outlining how he plans to grow the bank.
Before it's here, it's on the Bloomberg Terminal.
LEARN MORE