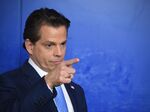 The Trump administration is hunting for the sources of leaks, even within its inner circle. Newly appointed Communications Director Anthony Scaramucci vowed to get rid of everyone caught leaking information to the press and took a shot at White House Chief of Staff Reince Preibus, telling CNN that "if Reince wants to explain that he's not a leaker, let him do that." So far, the Trump administration has brought charges against one alleged leaker, a National Security Agency contractor arrested on June 5 for passing classified information to a media organization.
1. Is Trump's focus on leaks unprecedented?
Maybe in its bluster, but not really in substance. Trump is largely following up on what his predecessor, Barack Obama, did with zeal -- cracking down on people who illegally passed on information, even reporters who published it. Under Obama, nine people were charged under the Espionage Act with passing information to media outlets, and journalists from Fox News, ABC and the Associated Press were ensnared in leak prosecutions. The Espionage Act, which has been around since 1917, wasn't used against alleged leakers of classified information until 1973, and it was used in that way just twice more before 2009.
2. What explains Trump's focus on leakers?
He's done a turnaround since becoming president. During the 2016 election campaign, Trump praised the leaked information that vexed his Democratic opponent, Hillary Clinton. "Wikileaks. I love Wikileaks," Trump said in October 2016, referring to the anti-secrecy organization that released tens of thousands of emails hacked from the Democratic National Committee and the personal Gmail account of John Podesta, Clinton's campaign chairman. Trump changed his tune after taking office in January, railing against leakers in television interviews and on Twitter. The recent appointment of Scaramucci has intensified the effort to ferret out leakers. Among other things, Scaramucci threatened to go to the FBI over a leak of his financial disclosure -- even though that was a publicly available document.
3. What will Scaramucci do?
When asked how he'd make leaks stop, Scaramucci said, "I'm going to fire everybody -- that's how." The resignation of a press aide, Michael Short, was seen as Scaramucci's first salvo. But then Scaramucci told reporters, "I'm not firing any more people."
4. What charges can leakers face?
None for basic political gossip. But national-security secrets are a different story. Reality Leigh Winner, the 25-year-old former U.S. Air Force linguist arrested in June, faces as long as 10 years in prison, and the government may press for a tough sentence to deter other leaks. She allegedly provided the online publication The Intercept a top-secret document that detailed Russian hacking efforts in the days before the 2016 election. She's charged with gathering, transmitting or losing defense information under 18 U.S. Code Section 793 (e), part of the Espionage Act. The most serious charge that can be laid against a leaker is treason, which can be punishable by death. Referring to leaks about Trump's foreign policy, Scaramucci said on July 27 that "150 years ago, people would have actually been hung for those types of leaks."
5. How do leakers fare in the courts?
It varies. Retired four-star general David Petraeus pleaded guilty in 2015 to a misdemeanor charge of mishandling classified information, after he provided it to his biographer Paula Broadwell. He was given two years probation and fined $100,000. At the other end of the scale is Chelsea Manning, who was court-martialed, convicted of violating the Espionage Act and sentenced to 35 years in prison. Manning, an intelligence analyst at the U.S. Army, passed almost 750,000 documents to WikiLeaks, including video files and military incident logs from Afghanistan and Iraq, which, among other things, exposed abuses of detainees. President Obama commuted her sentence to seven years, and she was released in May.
6. Have the prosecutions deterred leakers?
Apparently not. The Trump administration has been plagued by leaks, perhaps the most since Watergate. Columnist Charles Krauthammer called it "the Niagara of leaks" and a "loyalty problem inside the White House." The leaks began almost immediately as the president took office, with details of one of his first conversations with a foreign leader -- Australia's Malcolm Turnbull -- spilling out. A series of leaks to the Washington Post and the New York Times led to the resignation of Trump's first national security adviser, Michael Flynn. A leak triggered a pause in intelligence sharing between U.K. investigators and U.S. officials after the New York Times published the name of a suspected attacker and photos from the scene of a bombing outside an Ariana Grande concert in Manchester, England. Scaramucci says he can't have dinner with friends without it getting leaked to the media.
The Reference Shelf
The Committee to Protect Journalists details how the U.S. Espionage Act can be used to prosecute journalists.
A Freedom of the Press Foundation article: "How the Obama administration laid the groundwork for Trump's cracking down on the press."
Bloomberg View columnist Albert R. Hunt on leaks and unchecked power.
Before it's here, it's on the Bloomberg Terminal.
LEARN MORE