politics
McConnell Offers 'Skinny' Repeal as Ryan Seeks to Remove Hurdle
By , , and
Graham, Johnson ready to back it, but others are still quiet

Republicans release text of stripped-down repeal bill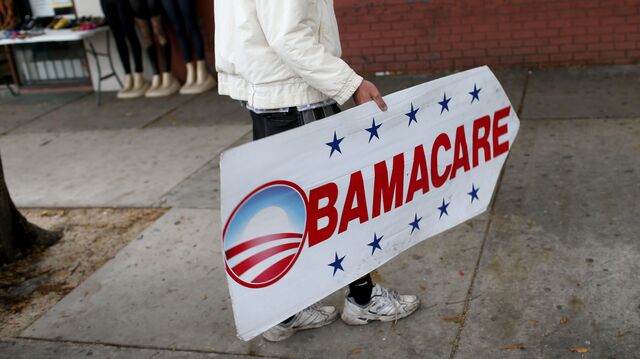 Several key Republicans said Thursday night they were ready to vote for a stripped-down Obamacare repeal plan just released by the Senate GOP leader after receiving personal assurances from House Speaker Paul Ryan that his chamber wouldn't pass the measure. 
Senate Majority Leader Mitch McConnell of Kentucky released the long-awaited text of his so-called skinny repeal bill late Thursday. It would end the requirements that individuals buy health insurance, and suspend through 2026 the requirement that companies provide it for their workers.
It would also extend a moratorium on the tax on medical-device makers through 2020 and increases the amount that individuals can contribute to health-savings accounts. The measure would also defund Planned Parenthood for one year.
The bill also includes changes to waivers that would give states more flexibility with how they use federal funds to provide health care to their residents, a provision designed to win over conservative senators. An earlier version of the provision that would have given states broad latitude to change how their insurance markets operate was found by the Senate's parliamentarian to violate the fast-track procedures being used to pass the measure. The provision includes $2 billion to help states apply for or implement their plans.
The Congressional Budget Office said late Thursday that the bill would result in an additional 15 million Americans without health insurance next year. It also said the measure would reduce the federal deficit by $178.8 billion over a decade.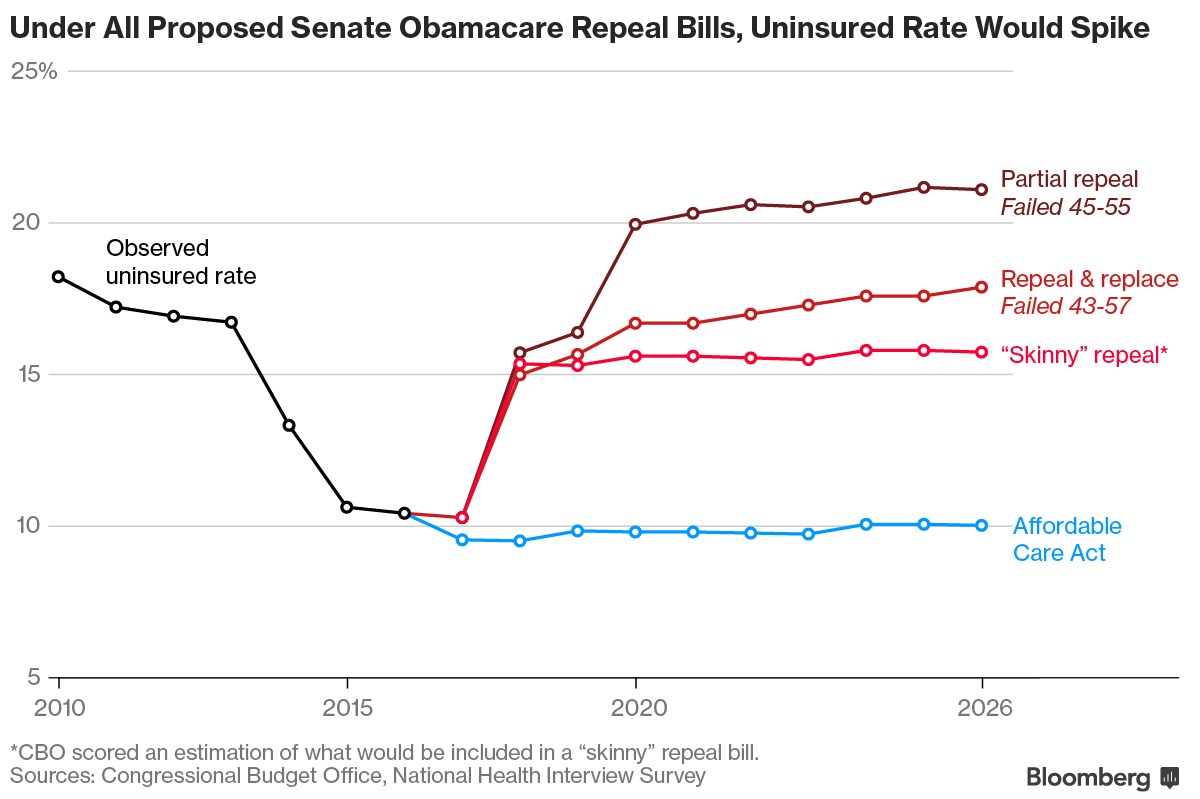 Republican Senators Lindsey Graham of South Carolina and Ron Johnson of Wisconsin said Thursday they would back the plan after a conference call with Ryan, in which he pledged to take the bill to a conference committee.
That may help clear the way for the GOP to continue its effort to repeal and replace the Affordable Care Act. But it's not clear that GOP leaders have the backing of the 50 Republicans they need to pass it.
Doubts Remain
After his own call with Ryan, Republican Senator John McCain of Arizona wouldn't say whether he would back the measure and said he wanted to speak with his state's governor. Before the call, however, he said he wasn't convinced by Ryan's written statement that Ryan is "willing" to hold House-Senate negotiations.
Republicans have said their plan is to get a bill through the Senate and then negotiate with the House on a broader agreement to repeal and replace Obamacare. 
"Passing this legislation will allow us to work with our colleagues in the House toward a final bill that can go to the president, repeal Obamacare, and undo its damage," McConnell said Thursday night on the Senate floor. "I urge everyone to support it."
Senate Democrats immediately blasted the new measure and called for bipartisan talks on fixing Obamacare.
"This bill is lighting the American health system on fire with intentionality," Democratic Senator Chris Murphy said after the text was released.
Earlier Thursday, five Republicans, including McCain and Johnson, said at a news conference they wouldn't pass the bill without guarantees the House wouldn't simply pass it. Ryan then issued a statement that the House is "willing" to hold a conference.
"I would like to have the kind of assurances that he didn't provide," McCain told reporters, adding that he wants the House to rule out passage of a skinny repeal.
GOP leaders can only lose two Republican votes to win passage. Republican Senator Susan Collins of Maine has earlier said she wouldn't support most of the health bills on the table.
The Senate is set to hold an all-night session of chaotic amendment votes before a potential vote on final legislation Friday.
'Normal Conference'

"We have to have an assurance that it will go to a normal conference," said McCain, who came to Washington to vote after being diagnosed with brain cancer last week in his home state of Arizona. "Right now that is not the case."
A "skinny" bill may merely end the mandate that all Americans have insurance or pay a penalty, along with a few other provisions.
"This has been sold to us as the vehicle to get to conference," Johnson said. "All we're looking for is a pretty simple guarantee."
In the statement, Ryan of Wisconsin said, "It is now obvious that the only path ahead is for the Senate to pass the narrow legislation that it is currently considering."
"If moving forward requires a conference committee, that is something the House is willing to do," he said. "The burden remains on the Senate to demonstrate that it is capable of passing something that keeps our promise, as the House has already done. Until the Senate can do that, we will never be able to develop a conference report that becomes law."
Ryan's statement was silent on whether the House might take up and pass the Senate bill if a conference fails to yield a result.
Members have been advised to keep their schedules flexible even though the House is due to begin a five-week recess after Friday.
Senator John Cornyn of Texas, the No. 2 Republican leader, said earlier Thursday that Republicans were discussing how many elements of an Obamacare repeal they must include to get enough support to pass a bill.
Employer Mandate
Senator Roy Blunt of Missouri, a member of the Republican leadership team, said a skinny plan might also eliminate Obamacare's requirement that most employers offer insurance to their workers, as well as some language allowing states more waivers to modify aspects of Obamacare. He said it is unlikely to include a repeal of a medical device tax that had been under consideration.
The House passed a broader Obamacare overhaul, H.R. 1628, in May.
House Freedom Caucus Chairman Mark Meadows of North Carolina said the House would "absolutely not" send a "skinny repeal" of Obamacare straight to Trump's desk. Moments after he spoke with Ryan on the House floor, Meadows told reporters that nothing has been decided on the potential legislative path ahead in the House.
Democrats expressed amazement that Senate Republicans would vote for an important piece of health legislation only on condition the House would virtually ignore it.
"This is ridiculous," said Senator Claire McCaskill, a Missouri Democrat. "It's like we're in the twilight zone of legislating."
QuickTake: The Individual Mandate
The behind-the-scenes talks contrasted with what was taking place on the Senate floor, where lawmakers were debating whether to replace Obamacare with a broad revision or even repeal it outright.
Early votes underscored the majority party's difficulty in pushing through a GOP-only bill amid unified Democratic opposition.
The Senate rejected a fuller repeal of Obamacare 45-55 Wednesday. Seven Republicans voted against it, including Senate Health Chairman Lamar Alexander of Tennessee and McCain.
Late Tuesday, a 43-57 Senate vote swept aside a revised version of McConnell's Obamacare replacement, a measure negotiated in secret during weeks of tense GOP talks. Hours earlier, senators barely agreed to start the debate on a 51-50 vote with Vice President Mike Pence casting a tie-breaker after two Republicans defected.
The Senate on Thursday defeated, 0-57, a "Medicare for all" amendment proposed by Republicans even though enacting such a single-payer system is a longtime goal of many Democrats. Independent Senator Bernie Sanders of Vermont -- a single-payer backer -- called the amendment a "sham" that Republicans had no intention of passing.
Bigger challenges await on the Senate floor, including a "vote-a-rama," a fusillade of votes on dozens if not hundreds of amendments. Democrats may offer poison pills, and other proposals might divide Republican moderates and conservatives.
Senate Minority Leader Chuck Schumer of New York warned that the passage of a "skinny repeal" alternative is a gambit to get Senate and House Republicans together in talks on a broader replacement plan.
— With assistance by Terrence Dopp, Anna Edney, Billy House, Anna Edgerton, Arit John, Laura Litvan, and Hannah Recht
(
Updates with CBO score in fifth paragraph.
)
Before it's here, it's on the Bloomberg Terminal.
LEARN MORE