Photographer: Chris Ratcliffe/Bloomberg
Elliott Tries a Texas Charm Offensive to Outdo Berkshire's Oncor Bid
By and
Elliott working to prepare rival takeover bid for Oncor

Elliott must still gain approval from Texas utility regulators
While Elliott Management Corp. tries to cobble together enough money to beat Berkshire Hathaway Inc.'s $9 billion bid to buy one of America's largest transmission operators, it has another problem to deal with: the state of Texas.
The New York hedge fund run by billionaire Paul Singer is trying to convince Texas stakeholders that its deal to buy their biggest power distributor, Oncor Electric Delivery Co., will be superior to Berkshire's. Representatives of Elliott have spent a week and a half in Texas meeting with groups including the state utility commission, people familiar with the situation said, asking not to be identified because the meetings aren't public.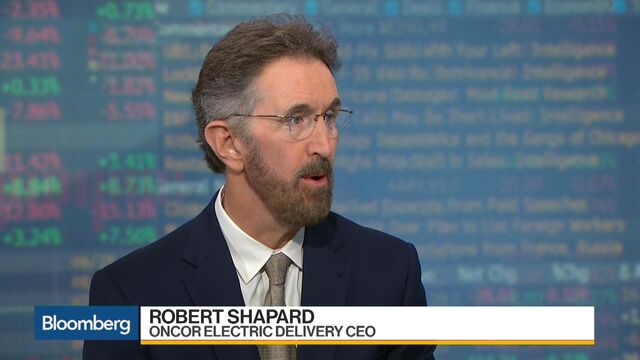 Elliott needs to win over the two sitting members of the Public Utility Commission of Texas, which will probably take a formal recommendation from the agency's staff. And despite meetings with the fund, a state official said the commission remains concerned with Elliott's plan because it lacks detail, including the investors that would ultimately own Oncor. 
Missing Details
In fact in a letter disclosed last week, Brian Lloyd, the commission's executive director, said "key details" remain missing from Elliott's proposal. He also said Elliott had wrongly told a lawyer that the commission would accept its plan once the terms were laid out in a formal agreement when "no such advisement occurred."
Elliott and Berkshire Hathaway's energy unit declined to comment. Terry Hadley, a spokesman for the utility commission, said "nothing much has changed" since Lloyd's letter.
High-Profile Bankruptcy
The takeover of Oncor is key to ending the high-profile bankruptcy of the utility's parent, Energy Future Holdings Corp., which has been working to restructure $50 billion of debt since 2014. The spat between Elliott and Warren Buffett's Berkshire threatens to keep it in Chapter 11 for longer. Texas regulators have already quashed two bids for Oncor by U.S. utility giant NextEra Energy Inc. and a group led by Hunt Consolidated Inc.

"It's all and well to say, 'We're going to come up with a better proposal,' but there are two masters to serve here," said Paul Patterson, a utilities analyst at Glenrock Associates LLC in New York. "One is the bankruptcy court and the other is the Texas PUC, and the Texas PUC has been the one that has basically knocked down" previous attempts.
Berkshire has meanwhile already laid the groundwork for its case before the Texas utility commission. Hours after announcing its deal to buy Oncor this month, Berkshire committed to more than 40 measures that, it said, would shield Oncor from potential bankruptcy at other units and protect an independent board with sole authority over the company's dividends -- two provisions the agency has laid out as conditions for a takeover.
Lloyd issued a statement early this month applauding Berkshire's "productive efforts." The commission's staff, the state's advocate for utility customers, a steering committee of cities served by Oncor and a group of industrial customers have all signed a document laying out the commitments Berkshire made, supporting approval of the deal.
Meeting Commitments
For its part, Elliott has assured Texas stakeholders in meetings that the hedge fund is willing to meet or exceed the commitments Berkshire has made, people familiar with the conversations said. The activist investment firm, the largest creditor to Oncor's bankrupt parent, has also made clear that it isn't just trying to get a better offer out of Berkshire to collect a bigger payout as a debtor. The fund is after an equity stake in Oncor, the people said.
Elliott got a partial victory earlier this week when a Delaware judge granted an 11-day extension before the bankruptcy court will consider Berkshire's bid, now set for Aug. 21. Elliott has conveyed in its meetings confidence that it can raise the necessary funds within that time even though it was originally seeking an extension to mid-September, said the people.
Elliott has been marketing its deal as better than Berkshire's because Oncor would have multiple owners as opposed to just one, offering a checks-and-balances system that would hold the company accountable to more than one stakeholder, according to the people. The fund is looking to pull together a bid that would preserve a 20 percent position held by Borealis Infrastructure Management and GIC Pte Ltd., with the rest of the company proposed to be owned by Elliott and other investors, they said.
Rounding Up Investors
Elliott said in court Wednesday that it's working on rounding up investors who may be willing to help finance a $9.3 billion, competing bid that would include $3.7 billion in debt and $5.6 billion in equity. The fund has already agreed to provide $1.1 billion and another creditor has pledged $400 million, said Roger Wood, a managing director at Moelis & Co., which is advising the company on its bid. Berkshire has offered an all-cash deal.
Wood said five to 10 investment groups would probably need to participate in Elliott's bid. And to bolster its case with Texas regulators, the fund is looking for investors in the state to back the offer, he said.
Oncor has, meanwhile, maintained that Berkshire's offer is still the best it's seen so far. The company is waiting to see if Elliot is able to pull together a rival deal, Geoff Bailey, director of communications at Oncor, said Thursday.
Without a formal Elliott bid on the table, Patterson said, "It's unclear to me what the reception will be."
— With assistance by Steven Church
Before it's here, it's on the Bloomberg Terminal.
LEARN MORE