Deutsche Bank Warns on Outlook as Cryan's Turnaround Slows
By and
Revenue falls 10 percent, missing estimates, on lower trading

Bank sees lower revenue for full year as clients 'muted'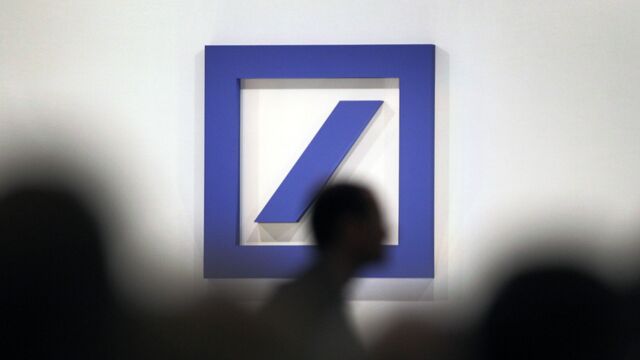 Just four months into his latest turnaround plan, John Cryan is already dialing back ambitions.
The chief executive officer of Deutsche Bank AG on Thursday presented the weakest quarterly revenue in 3 1/2 years as earnings at the reorganized investment banking unit slumped. The bank, which had predicted growth from regained market share this year, cautioned that revenues of its operating businesses will decline, sending the shares down by the most in more than four months.
"We have been focusing on costs. Now we need to focus a bit more on the revenues," Cryan, 56, said in an interview. Still, results from the first half of this year are "a little bit indicative of the new footprint" of the bank as a whole.
Cryan said in March, when he announced the bank's third revamp in as many years, that he's trying to restore "modest growth" by pivoting Europe's largest investment bank to corporate clients and emphasizing Deutsche Bank's German roots. The lender last year posted the weakest annual revenue since 2010 as clients fled amid concern the bank may struggle to pay misconduct fines. Cryan this year raised 8 billion euros ($9.4 billion) to try and put those worries to rest, but clients so far have been slow to return.
"It's taking Deutsche Bank longer than expected to regain market share," said Markus Riesselmann, an analyst with Independent Research who has a buy recommendation on the stock. "But lower credit loss provisions and progress on cost cuts helped the bank achieve a better-than-expected profit."
Second-quarter revenue fell 10 percent to 6.62 billion euros, the lowest since the end of 2013 and short of the 7.1 billion-euro average estimate by six analysts surveyed by Bloomberg. Net income of 447 million euros beat the analysts' 311 million-euro estimate.

Profit was boosted by lower provisions for credit losses, which fell 70 percent from a year earlier, as well as a 6 percent decline in adjusted costs. That's better than analysts had expected, according to Morgan Stanley, which called the results "mixed" in a note to clients.
Deutsche Bank fell as much as 4.8 percent, the most since March 6, and traded 4.3 percent lower at 15.89 euros at 3:02 p.m. in Frankfurt. Before today, the stock had rebounded about 76 percent from a record low in September, when concern about its capital position peaked.
The "challenging" trends of last quarter, such as subdued client activity, low market volatility and low interest rates, "have remained in place in the quarter to date," Chief Financial Officer James von Moltke said on call with analysts.
Cryan is in the process of cutting about 9,000 jobs and has a target of reducing costs by some 3 billion euros by 2021. Headcount is down 4,656 from a year earlier, though the bank has recently started to fill some staffing holes, particularly in its corporate finance franchise and its wealth management unit.
Trading Slump
At the investment bank, fixed-income trading declined 12 percent and revenue from equities trading fell 28 percent. The CEO scaled back the debt trading business since taking over in 2015, and made efforts to improve controls and compliance after losses and misconduct fines. But problems with the bank's risk management practices resurfaced last month when its traders were on course to lose as much as $60 million in a wrong-way derivatives bet on inflation.
"In equities we've lost a bit of market share and we're down quite a bit," Cryan said in the interview. "We need to invest in technology. We've let it slip a little bit."
Global transaction banking revenue fell 12 percent and origination and advisory declined 7 percent, showing the challenges for the bank as it tries to win more business from corporate clients, rather than institutional investors. Cryan merged advisory and trading in the March reorganization into one unit co-headed by former Chief Financial Officer Marcus Schenck and Garth Ritchie.
The bank said prime finance revenues were significantly lower in the second quarter as average balances remain below where they were a year earlier. About half of the clients who stopped doing business with Deutsche Bank at the end of last year returned in the first quarter.
Cryan's Plan

"We've got more potential to make revenues from prime finance," Cryan said. "Those balances are back. So once activity levels pick up we should see an improvement in revenues."
Under Cryan, the bank ended major legal cases that had created uncertainty among clients, including a $7.2 billion settlement in December with the U.S. Justice Department of a probe into the bank's handling of toxic mortgage securities before 2008. This month, Deutsche Bank and JPMorgan Chase & Co. agreed to pay a combined $148 million to resolve claims that they conspired to manipulate the benchmark yen Libor rate.
Litigation expenses will probably rise in the second half of the year, the bank said. Several other cases are still pending for the German lender, most importantly a U.S. probe into its role in helping clients move about $10 billion out of Russia in so-called mirror trades. The bank is also facing pressure in the U.S. to disclose details about more than $300 million in loans it made to President Donald Trump for real estate projects.
The CEO in March also discarded previous plans to sell the bank's retail subsidiary Postbank after failing to find a buyer. The unit is now being integrated, with the aim to create the biggest retail bank in the notoriously overbanked German retail market. Net revenue at the private and commercial banking unit, which includes Postbank, fell 7 percent to 2.56 billion euros.
The asset management division, which Deutsche Bank is preparing for a partial initial public offering, reported a second straight quarter of net inflows, with clients adding 6 billion euros. The partial IPO, along with other disposals, is expected to raise about 2 billion euros in capital for the bank.
Before it's here, it's on the Bloomberg Terminal.
LEARN MORE