politics
Deal Struck on Russia-Iran Sanctions Bill Curbing Trump's Power
By
Senator Corker backs House's 419-3 version of legislation

'Anti-Russian Hysteria' augurs 'new stage of confrontation'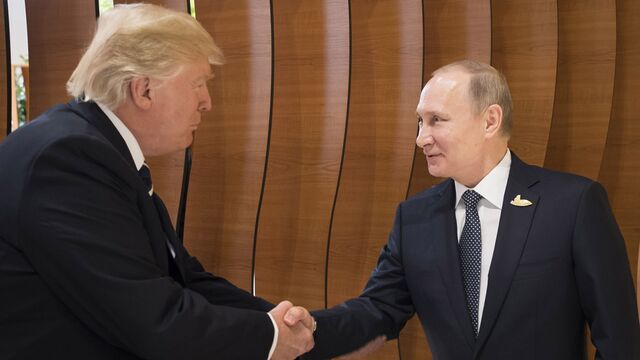 The U.S. Congress has struck a deal to send President Donald Trump a bill that could limit his power to lift sanctions against Russia. 
Senate Foreign Relations Committee Chairman Bob Corker said he reached an agreement with leaders in the House of Representatives to act on their version of the legislation, passed Tuesday in a 419-to-3 vote. It includes sanctions on North Korea that Corker previously said could hold up the bill. The original Senate bill addressed only Iran and Russia and passed that chamber by 98-2 last month.
"The Senate will move to approve the Iran and Russia sanctions it originally passed six weeks ago, as well as the North Korea sanctions developed by the House," Corker, a Tennessee Republican, said in a statement. "Going forward, the House has committed to expeditiously consider and pass enhancements to the North Korea language, which multiple members of the Senate hope to make in the very near future."
Senate Democratic leader Chuck Schumer said Thursday on the Senate floor that members of his party would agree to send the bill to Trump "at any time." If the president vetoes the measure, "the American people will know that he's being soft on Putin," Schumer said.
Passage would force Trump to either sign away part of his authority for unilateral action on sanctions against Russia or veto a bill that appears to have enough support to override an attempt to block it from becoming law.
"He may sign the sanctions exactly the way they are or he may veto the sanctions and negotiate an even tougher deal against the Russians," White House Communications Director Anthony Scaramucci said of the president in an interview with CNN Thursday.
Russian relations are a sensitive topic for the Trump administration, as the Federal Bureau of Investigation, a special counsel in the Justice Department, and congressional committees are investigating connections between the president's campaign and the Kremlin. Emails published by Trump's son show that members of his family and inner circle met with Russians in the run-up to last year's election.
Read More: Russia Ponders Its Limited Options to Strike Back at Sanctions
Taking a tough stance on Russia gives Republicans something to talk about as they head back to their districts for August recess after months of squabbling over health-care proposals and failure to produce a draft of their tax plan. The House is scheduled to leave Washington after this week, and the Senate has two more weeks to tackle its backlog of nominations and legislation, including this bill.
"The message coming from Congress on a bipartisan basis is: these are hostile regimes and sanctions are warranted," House Speaker Paul Ryan said at his weekly news conference Thursday. "We want to make sure they're tough sanctions, we want to make sure they're durable sanctions."
Threats of retaliation from Russia were almost immediate following the House's approval of the bill on Tuesday. How Russia responds will depend on the final form of the legislation, Russian President Vladimir Putin told reporters at a news conference Thursday while visiting Finland.
U.S. sanctions against Russia are "absolutely illegal from the point of view of international law," Putin said. "At some point we will have to respond. It's impossible to tolerate boorishness toward our country forever."
Trump will likely sign the law because "he's a prisoner of Congress and anti-Russian hysteria," Alexei Pushkov, a senator in Russia's upper house of parliament, said on Twitter. The sanctions are "a new stage of confrontation," he said.
The Senate's original bill focused on Iran sanctions that were modeled after executive orders from previous administrations. The Russia part was later added in an amendment.
That bill was sent to the House before Trump met Putin at the Group of 20 summit earlier this month, but Republican leaders said they couldn't hold a vote that week due to procedural concerns. Officials from the Treasury and State departments met with a bipartisan group of House lawmakers to oppose the provision allowing lawmakers to block the president's decision to lift sanctions.
The delay then gave time for companies to scale up their lobbying against parts of the bill, including a provision that would have restricted participation in international projects with even small Russia participation. That measure was changed last week to apply to only ventures with a 33 percent stake from Russian firms.
House Majority Leader Kevin McCarthy also insisted in including North Korea sanctions as a way to force the Senate to vote on a bill the House passed by a large margin months ago. Corker's statement about an agreement on this measure resolves concerns about further delays.
— With assistance by Stepan Kravchenko, Andrey Biryukov, and Ilya Arkhipov
(
Updates with Ryan, Putin comments starting in ninth paragraph.
)
Before it's here, it's on the Bloomberg Terminal.
LEARN MORE