Chinese Billionaire Developer Convicted in UN Bribery Case
By
Jury in New York finds Ng Lap Seng guilty of all charges

U.S. claimed Ng sought approval to build project in Macau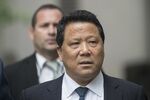 A Chinese developer was convicted of charges he paid bribes to win backing for a United Nations conference center that he hoped to build in Macau.
A jury in Manhattan on Thursday found the developer, billionaire Ng Lap Seng, guilty of all six charges he faced, including conspiracy, bribery and money laundering, in the biggest UN corruption scandal since the oil-for-food program in the early 2000s. Prosecutors claimed Ng funneled hundreds of thousands of dollars to former UN General Assembly President John Ashe and other officials.
"In his unbridled pursuit of even greater personal fortune, billionaire Ng Lap Seng corrupted the highest levels of the United Nations," acting U.S. Attorney Joon Kim said in a statement. "Through bribes and no-show jobs, Ng turned leaders of the league of nations into his private band of profiteers."
The jury of nine men and three women reached their verdict after deliberating for less than a day. U.S. District Judge Vernon Broderick ordered Ng on house arrest while he decides whether to jail him pending sentencing.
Ng and his attorney, Tai Hyun Park, declined to comment after the verdict was read.
UN Diplomats
Jurors in the month-long trial heard testimony from Francis Lorenzo, 50, one of the UN diplomats who admitted taking the bribes. Lorenzo told jurors that Ng hoped to build a permanent home for an annual UN conference on economic cooperation among developing countries.
Lorenzo, the former deputy ambassador to the UN from the Dominican Republic, said the scheme ran for five years beginning in 2010. Lorenzo pleaded guilty and agreed to cooperate with the government in hopes of a lenient sentence.
Ng's lawyer claimed the payments weren't bribes. Instead, Ng's intention was to support the project, which he saw as a public-private partnership between himself and the UN.
Prosecutors said his plan was to build the center for free to boost the value of a related complex of apartments, offices, a casino and hotel he also planned to develop. Ng and others involved were arrested before the center was built.
The UN officials used their positions to advance Ng's efforts to win formal support for the conference center development,  according to the government. They issued documents naming Ng's company as the exclusive developer.
More on the indictment and the probe
Six people were originally charged, including Ashe, who died in a weightlifting accident last year. In addition to serving as president of the general assembly, Ashe was the ambassador to the UN from Antigua and Barbuda. All the others, except Ng, pleaded guilty.
The case is U.S. v. Ashe, 15-cr-00706, U.S. District Court, Southern District of New York (Manhattan).
Before it's here, it's on the Bloomberg Terminal.
LEARN MORE