Bayer CEO Expects EU Nod for Monsanto Deal After Extended Probe
By
Baumann says in-depth probe due to deal's size and complexity

CEO says 'no reason to doubt' plan to close deal by year-end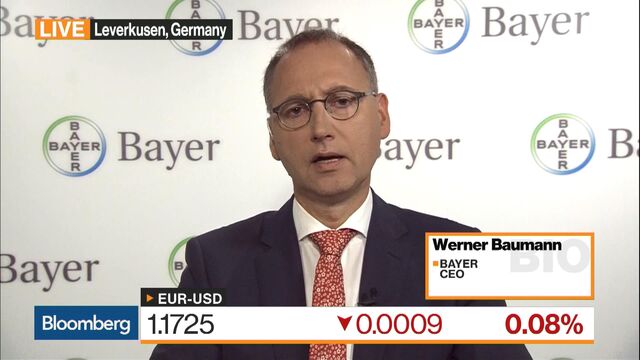 Bayer AG's Chief Executive Officer said he expects its $66 billion combination with Monsanto Co. to close by the end of the year despite conceding that the deal faces an in-depth European Union investigation given its size and complexity.
Werner Baumann told investors Thursday "there's absolutely no reason to doubt" the companies can close the deal by the end of the year even if the European Commission opens a so-called phase II in-depth review, which would push back the current Aug. 7 deadline for the EU to rule on the deal by about four months. "There's still a half a year left," he said.
"We have always expected that in Europe we might go into a phase II because it is a large and complex deal," Baumann said. "Just out of pure magnitude of data we submitted to the commission, it is clear that they have a lot of reviewing to do."
The Monsanto deal is the last of a trio of mega-deals reshaping the global agrochemicals industry. The first two drew intense scrutiny, with regulators saying they want to ensure that fewer suppliers of crop-protection products and other critical inputs for farmers won't lead to higher prices that could push up the cost of food for consumers.
Earlier this year, the commission extracted extensive concessions before clearing Dow Chemical Co.'s $77 billion merger with DuPont Co. and China National Chemical Corp.'s $43 billion takeover of Swiss pesticide maker Syngenta AG.
Baumann said the engagement with the EU has been positive. "The discussions with the European Commission have been very, very intense, detailed, but also very constructive," he said. The Brussels-based commission declined to comment.
Before it's here, it's on the Bloomberg Terminal.
LEARN MORE