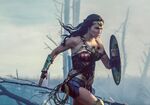 Wonder Woman – at least according to the latest cinematic version of the story – helped Britain to win World War I. Now it appears she's doing her bit for the economy.
U.K. box-office receipts for the Warner Bros. film, and others such as "Pirates of the Caribbean," helped drive growth in services in the second quarter of the year. Including film production, the sector grew 8.2 percent and added 0.07 percentage point to gross domestic product over the three months. That's almost one third of the 0.3 percent growth recorded in the period.

Data from the Office for National Statistics shows that growth in U.K. motion picture activities has "significantly outpaced" that in European Union countries since early 2014.
The U.K.'s 72 percent surge is partly due to new tax incentives for production. The changes, to help the U.K. compete with cheaper locations in Eastern Europe, were introduced by former Chancellor of the Exchequer George Osborne, who was even rewarded with a credit on "Star Wars: The Force Awakens," some of which was filmed at Pinewood Studios near London.
There were 175 films completed in the U.K. in 2016-17 which claimed Film Tax Relief, with the Treasury paying out 415 million pounds. That's up from 339 million pounds the previous year and is four times higher than a decade earlier. Big-budget television shows – which include the Netflix series "The Crown" – received 163 million pounds.
Before it's here, it's on the Bloomberg Terminal.
LEARN MORE