Trump Pick for Fed's Wall Street Watchdog Plans to Ease Rules
By and
Randal Quarles says refinements 'undoubtedly in order'

OCC pick Joseph Otting defends his tenure running OneWest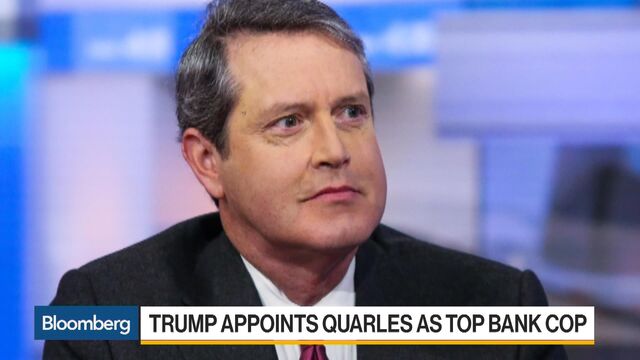 President Donald Trump's pick to be the Federal Reserve's top Wall Street watchdog said it's time to reconsider the restrictions imposed on banks in recent years, even as he credited regulations with helping stabilize the financial system after the 2008 crisis.
"As with any complex undertaking, after the first wave of reform, and with the benefit of experience and reflection, some refinements will undoubtedly be in order," said Randal Quarles, Trump's nominee to be the Fed's first vice chairman of supervision.
Quarles made the comments in prepared testimony for a Thursday confirmation hearing before the Senate Banking Committee. Lawmakers will also hear testimony from Joseph Otting, the president's selection to run the Office of the Comptroller of the Currency. Their remarks were obtained by Bloomberg News.
If confirmed by the Senate, Quarles and Otting will be the two most powerful U.S. banking regulators, setting them up to play leading roles in the Trump administration's efforts to roll back financial rules. The two would have extensive influence over bank capital and liquidity, and the enforcement of regulations such as the Volcker Rule, which restricts lenders from investing with their own money.
'Well Qualified'
Quarles, a former Treasury Department official, would leave a private-equity firm he co-founded to join the Fed. Otting would bring a lengthy resume working for banks that are overseen by the agency he's been tapped to run.
Quarles said he's "'well qualified" for the Fed job after multiple stints at Treasury and for his deep industry experience. In remarks Wall Street will likely welcome, he signaled a hesitancy about aggressive regulation, saying he'd be "humble about the fallibility of our judgments" as supervisors. That would be a contrast to former Fed Governor Daniel Tarullo, a Barack Obama appointee who was well known for his tough stance when he led the Fed's oversight of lenders.
The supervision post was created by the 2010 Dodd-Frank to increase the prominence of the Fed's regulatory role. While Tarullo performed the responsibilities, he was never nominated for the job.
At Thursday's hearing, senators will probably question Quarles on whether he plans to ease specific demands, including the Fed's annual stress tests that evaluate whether banks can endure severe economic slumps. He may also be asked about his long career investing in banks while working at Carlyle Group LP and other firms.
For Otting, Democratic senators are expected to criticize his tenure running OneWest Bank, which was the reincarnation of failed mortgage lender IndyMac Bancorp. Otting served as OneWest's chief executive officer while Treasury Secretary Steven Mnuchin was the lender's chairman. OneWest was the target of government enforcement actions and consumer complaints for foreclosing on tens of thousands of homes after the financial crisis.  
$10.5 Million Payout
During Otting's tenure, OneWest was sold to CIT Group Inc. He received a $10.5 million payout of his employment contract in the aftermath of the CIT acquisition, according to financial disclosure forms he filed as part of the nomination process.
In his brief prepared Senate testimony, Otting defended his work at OneWest as an experience he "will remain proud of."
Both Quarles and Otting have amassed substantial wealth from the finance industry, according to their financial disclosures. They each pledged to shed millions in bank stocks before they join the government, and Quarles said he'd sell stakes in several lenders he obtained during his private-equity career.
Since his nomination, Otting has also faced some scrutiny of his resume. His brief biography released by the White House said he "holds a B.A. from the University of Northern Iowa and is a graduate of the School of Credit and Financial Management at Dartmouth College." The latter was a management training course not affiliated with Dartmouth, though it took place on the campus.
Before it's here, it's on the Bloomberg Terminal.
LEARN MORE