politics
Tax Overhaul Framework May Go Public This Week
By , , and
Principles seen having more details than April tax outline

House members are set to depart for month-long August recess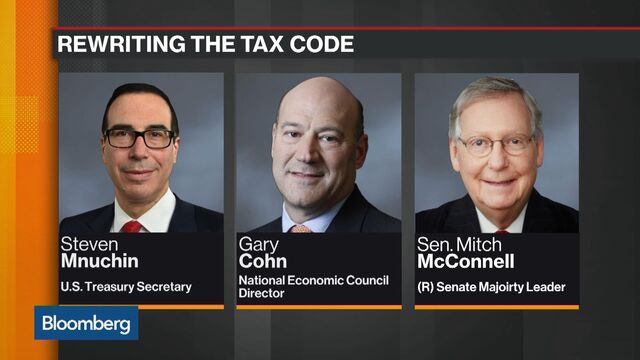 A set of broad guidelines on a tax overhaul bill could be released as early as this week, according to people familiar with ongoing tax discussions between congressional leaders and White House officials.
Areas of agreement among House, Senate and White House leaders could be highlighted in the principles, which would likely be more than the one page outline that the White House released in April, but shorter than draft legislation, said one of the people, a Republican congressional staff member who asked not to be named because the discussions are private.
The so-called Big Six -- Treasury Secretary Steven Mnuchin, National Economic Council Director Gary Cohn, Senate Majority Leader Mitch McConnell, Senate Finance Chairman Orrin Hatch, House Speaker Paul Ryan and Ways and Means Chairman Kevin Brady have been meeting weekly to discuss their priorities for a bill that would rewrite the tax code. GOP leaders have said it's crucial that a tax bill pass before the end of the year.
So far, officials have declined to reveal details about their discussions, and there hasn't been any indication that they've answered basic questions, such as how deeply to cut tax rates or whether the lost revenue should be offset, and how.
August Recess
"We're working very hard on continued details of the plan and we look forward to releasing them when we release them," Mnuchin said to reporters after a Senate subcommittee hearing Wednesday when asked about the release of tax principles this week. The Treasury secretary reiterated the administration was focused on "comprehensive tax reform" in response to a question about any alternative plan for just tax cuts.
House Freedom Caucus Chairman Mark Meadows said he was aware tax principles would be coming out, but declined to say when. Representative Dave Brat of Virginia said he's heard that "there are some high-level details coming" on taxes.
"I doubt that it will have the specificity that will give us a clear understanding of what we are doing," Meadows said.
House members are currently scheduled to depart Washington for their August recess at the end of this week. Releasing guidelines before then would give members talking points when they go back to their districts.
"I think what you're going to see is an agreed-upon framework, but with significant meat on the bones," Representative Tom Reed, a New York Republican, said earlier this week -- though he stressed that the timing was unclear. "The legislative process is being laid out to fill in the final details and the additional details."
President Donald Trump's top legislative aide said earlier this month that White House officials hoped to have a unified plan for overhauling the U.S. tax code in place before members of Congress left for their monthlong recess.
Ryan's office and the tax-writing Senate Finance Committee didn't respond to requests for comment.
— With assistance by Erik Wasson, and Sahil Kapur
(
Updates with comments from Meadows and Brat starting in sixth paragraph.
)
Before it's here, it's on the Bloomberg Terminal.
LEARN MORE