Tanzania's President Urges Increased Control of Mineral Wealth
By
Country has been 'cheated' out of its natural resources

Magufuli this week demand $190 billion taxes from Acacia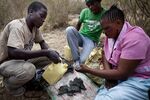 Tanzanians are being cheated out of the country's mineral wealth and should take more control of their natural resources, President John Magufuli said.
Investors in Tanzania's mining industry have "stolen" from the country by failing to distribute a fair share of the revenue they generate from gold and other minerals, Magufuli said in a speech in the central region of Singida on Tuesday.
"We are surrounded by wealth; we have to stand up and protect it," he said. "It shouldn't happen that we have all this wealth, sit on it, while others come and benefit from it by cheating us."
Magufuli is overhauling the country's mining industry as the government targets doubling its contribution to gross domestic product to 10 percent by 2025. In March, he banned mineral exports and ordered an audit that found London-based Acacia Mining Plc understated the taxes it owes Tanzania, a finding the company refuted. The government this month approved laws that would enable the state to renegotiate contracts with mining and energy companies.
The dispute between Acacia and the government escalated over the past two weeks after the authorities detained at least two of the company's senior employees for questioning. Chief Executive Officer Brad Gordon said July 21 that "many" of the company's senior employees have been interviewed by the authorities. This week, the government presented Acacia with a $190 billion tax bill to cover alleged undeclared export revenue from its mines.
Shares Plunge
Acacia's shares have fallen 57 percent so far this year and traded 5.9 percent lower at 159 pence by 3:58 p.m. in London.
In his speech, Magufuli said Tanzania should resist encouragement by foreigners to privatize its state enterprises. The sale of government-owned assets to private investors has prevented the country from developing its own industries, he said.
Tanzania should learn from countries like Ethiopia, whose airline is international even though it is state-owned, Magufuli said.
"Us, everything we privatize, we enter into joint ventures, we partner with fraudsters," he said. "I do not like privatization."
Before it's here, it's on the Bloomberg Terminal.
LEARN MORE