Shkreli Prosecutors Finish Four Weeks of Evidence, Trial Nears End
By and
'Pharma Bro' accused of running hedge funds as Ponzi scheme

Shkreli said Monday he won't testify in his own defense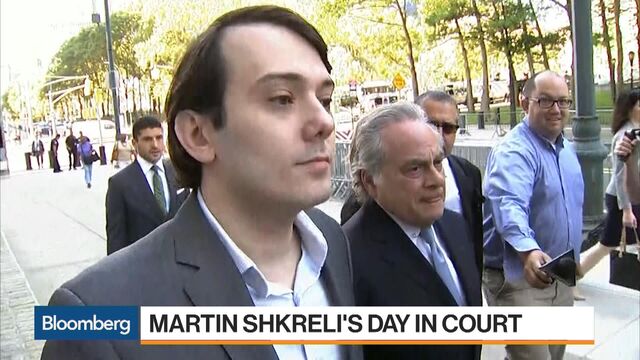 Prosecutors wrapped up their fraud case against Martin Shkreli after weeks of testimony that depicted the Retrophin Inc. co-founder as a Ponzi schemer who stole money from his hedge-fund investors to launch his drug company.
Shkreli's lawyers rested their case as well on Wednesday. They didn't offer any witnesses, relying instead on intense cross-examination during the government's case. Shkreli didn't testify. Jurors may begin deliberating by week's end after hearing arguments from the lawyers on Thursday.
Over four weeks of trial, investors in Shkreli's two hedge funds testified that they were unable to recover their money from him, sometimes for years. Prosecutors also presented account statements suggesting that Shkreli lied about investors' returns.
The government called several of Shkreli's ex-employees to the witness stand, including a former compliance officer who said he got so fed up watching his boss execute questionable transactions that he quit and complained to the U.S. Securities and Exchange Commission.
All the while, the defense sought to portray Shkreli as an eccentric genius whose investors ended up profiting. Several witnesses said on cross-examination that they made millions of dollars after Shkreli repaid their hedge-fund investment with Retrophin stock.
'Pharma Bro'
Nicknamed "Pharma Bro" by many of his online supporters, Shkreli, 34, became notorious for raising the price of a potentially life-saving drug by 5,000 percent. But that wasn't an issue at the trial. Shkreli is accused of using his hedge funds' assets to start Retrophin without his investors' permission, and then using $11 million of the company's money to pay off those who had lost money in his funds. He faces as long as 20 years in prison if convicted of the most serious charges against him.
The government's final witness was Michael Braconi, one of the two FBI agents assigned to the case, who testified about emails Shkreli exchanged as losses mounted at his hedge funds and investors increasingly demanded their money back.
Many of the emails were with Shkreli's former lawyer, Evan Greebel, who has also been charged with securities fraud and is being tried separately from his former client. They show an increasingly tense relationship between the two.
Shkreli Witness Had Front-Row Seat to Fund Train Wrecks
In one email from February 2013, Greebel advised Shkreli that attempting to buy Retrophin shares from investor and employee Tim Pierotti at below market value was "not the best course of action."
"You are the director and CEO of a public company," Greebel wrote to Shkreli. "You now have a duty of loyalty and related issues. Getting stock below market could be problematic."
"F that," Shkreli responded.
On Wednesday, after both sides rested their case, the lawyers spent hours in court arguing over the legal instructions the judge will give to jurors.
The case is U.S. v. Shkreli, 15-cr-0637, U.S. District Court, Eastern District of New York (Brooklyn).
Before it's here, it's on the Bloomberg Terminal.
LEARN MORE