technology
Samsung Profit, Sales Top Estimates on Chips, S8 Smartphone
By
Earnings boost optimism over company amid heir's trial

Results reflect Samsung's strength in semiconductors, displays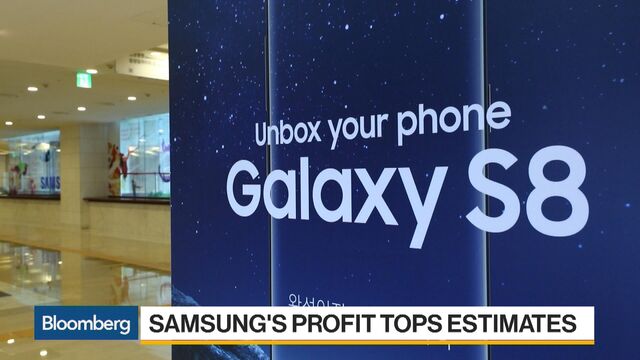 Samsung Electronics Co.'s quarterly profit and revenue topped analysts' estimates, fueled by the success of its new Galaxy S8 smartphones and demand for semiconductors.
Net income rose to a record 10.8 trillion won ($9.6 billion) in the three months ended June, the Suwon, South Korea-based company said in a filing Thursday, exceeding the 9.75 trillion won average of projections compiled by Bloomberg. Sales rose 20 percent to 61 trillion won.
The results come at a critical time with the trial of billionaire heir apparent Jay Y. Lee winding down to its final proceedings in a scandal that has kept the vice chairman away from Samsung for half a year. In his absence the company has released the S8 to glowing reviews, helping it recover from the Note 7 recall, while also boosting investment in chips to meet demand from rivals including Apple Inc.
"The S8 has indeed helped get Samsung back onto its feet, hopefully putting the Note7 debacle behind it," Bryan Ma, a technology industry analyst at IDC, said before the announcement. "But we also have to keep in mind that a lot of Samsung's momentum is from memory and displays too, so it's not all about the S8, either."
Sales of high-end chips sought by enterprises helped make up for a seasonal slowdown in smartphone memory demand, Samsung said. The company has ridden out cyclical downturns before, and expects to increase spending this year as well "by a large margin," it said. Demand for chips is coming from companies such as Amazon.com Inc., Facebook Inc. and Alibaba Group Holding Ltd., according to Claire Kim, an analyst at Daishin Securities.
"They just want to buy in voluminous amounts and increase their data capacity," Kim said. "If you and I keep using Facebook, Instagram and Snapchat, that's good news for chip business."
Samsung has also rallied on a shortage of memory chips this year. Prices of DDR3 4-gigabyte DRAM chips rose to $3.12 at the end of June, up from $2.98 at the end of March and nearly double from a year earlier, according to data fromInSpectrum Tech Inc. Samsung's chips unit reported operating profit of 8 trillion won while the display business had earnings of 1.7 trillion won.
The mobile business reported operating profit of 4.1 trillion won. Samsung said sales of lower-priced phones sagged even though the flagship S8, released in March, accounted for more half of its mobile growth.
Total operating profit for the second quarter was 14.1 trillion won.
Samsung shares rose as much as 1.6 percent on Thursday, and are near record highs this year, shrugging off the drama surrounding Note 7 and the trial.
Lee, 49, is facing bribery and embezzlement charges in connection with a national influence-peddling scandal that led to the ouster of President Park Geun-hye in March, which prosecutors say helped facilitate a merger that increased his sway over Samsung Electronics. Lee has overseen the Samsung conglomerate after his father Lee Kun-hee suffered a heart attack in 2014 and was hospitalized. Detained since February, he has denied wrongdoing through lawyers and is scheduled to speak in court himself within the next week.
A verdict is expected next month.
(
Updates with analyst's comment in sixth paragraph.
)
Before it's here, it's on the Bloomberg Terminal.
LEARN MORE