RBA's Lowe Warns on `Insidious' Wages, Says Comfortable on Rates
By
Central bank chief delivers speech on jobs, policy in Sydney

'We don't need to move in lockstep' with peers on tightening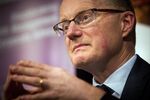 Australia's central bank chief Philip Lowe warned that prolonged weak wage growth could damage the economy while adding he was "very comfortable" with current policy settings.
"If workers are getting no real wage increase year after year after year that's insidious," Lowe said in reply to a question after a speech Wednesday. Higher wage growth "would help get inflation back to target and I think people would feel a bit better as well, and the fact that many of us have lowered our expectations of future income growth means we're less inclined to spend."
Declining consumption is a problem for Australia because household spending accounts for more than half of gross domestic product. Lowe also said that weak wages potentially undermine sensible economic policy, a thinly-veiled reference to the rise of populist parties in many developed countries where workers are struggling to increase their pay.
The Reserve Bank of Australia has kept interest rates unchanged at a record-low 1.5 percent for almost a year to smooth the economy's transition to services and manufacturing and away from mining. Lowe has signaled a willingness to tolerate weak inflation to avoid cutting rates further and pumping up Sydney and Melbourne house prices even higher. 

Second-quarter data Wednesday showed inflation failed to reach the lower end of the central bank's 2 percent to 3 percent target; Lowe said it was "consistent" with expectations.
"The main effect of lower interest rates is that more people have jobs," Lowe said. "That's why I'm very comfortable with the current setting of monetary policy, it's helped people get jobs."
Asked whether lower wages might simply be Australia's economy adjusting to become more competitive after the resource boom, Lowe said the answer to such a problem "isn't grinding lower, lower nominal wage growth" but that it largely rests on the currency.
Lower Currency
"This is one of the reasons we've been talking about the exchange rate in recent times," the RBA chief said. "It would be better if the exchange rate were a bit lower than it currently is. It would help generate more jobs, push inflation a bit closer to our target -- so that's the solution to a competitiveness problem."
The Aussie dollar was trading near 79 U.S. cents on Wednesday afternoon in Sydney and has risen almost 10 percent against the dollar this year.
In his earlier speech in Sydney, Lowe said that global counterparts' moves to withdraw stimulus from their economies "has no automatic implications" for policy Down Under, signaling again that rates aren't about to move.
"Just as we did not move in lockstep with other central banks when the monetary stimulus was being delivered, we don't need to move in lockstep as some of this stimulus is removed," he told a forum of economists.
No Obligation
The governor reiterated remarks Friday by his deputy, Guy Debelle, that because Australia didn't cut rates to zero and expand its balance sheet, it's not obliged to begin tightening together with others.
Lowe delved deeply into the labor market in his speech, and the implications for consumption and debt from weak wage growth. He did note that because Australia's labor market has strengthened -- recording the biggest back-to-back gains in full-time jobs in almost 30 years -- that's allowed the RBA to be "patient" on policy and slow inflation.
The governor said the RBA's central scenario was for wages to gradually pick up and inflation speed up. But he saw a couple of other possible scenarios:
It could be that the lag between employment and wage growth is a bit longer and there could be a catchup that sees inflation pressure quickly emerge; he said this is a low probability, but can't be ruled out
Globally, it could be that slow wage growth turns out to be more persistent, and it takes longer for wages to pick up, leaving inflation lower for longer. Under this, the Phillips Curve is flatter than it was. One consequence is that a flatter Phillips Curve means policy stimulus has "relatively little effect" on inflation. In addition, low inflation, low unemployment and low rates is likely to encourage more borrowing to buy assets, posing "a medium-term risk" to financial stability
"Over recent times you would have noticed that we have been paying close attention to the risks in household balance sheets," Lowe said. "Household debt is high and rising faster than the unusually slow growth in incomes."
Before it's here, it's on the Bloomberg Terminal.
LEARN MORE