Hilton CEO Says Alliance With HNA Isn't a Cause for Concern
By
'It doesn't keep me up at night,' Nassetta says of collateral

Hotel company also partnering with China's Anbang on Waldorf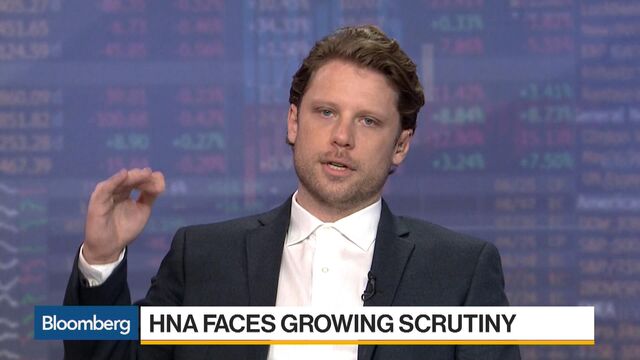 Start your day with what's moving markets in Asia. Sign up here to receive our newsletter.
Hilton Worldwide Holdings Inc. Chief Executive Officer Christopher Nassetta said the hotel operator continues to work with China's HNA Group Co., its largest shareholder, as planned and that he isn't concerned about a potential change in ownership resulting from China's crackdown on financial risk-taking.
"At the moment I don't think there's something to worry about," Nassetta said on Hilton's second-quarter earnings call Wednesday, seeking to allay what he said was investor concern.

HNA bought 25 percent of Hilton from Blackstone Group LP in March, and the same percentages of two Hilton spinoffs, Park Hotels & Resorts Inc. and Hilton Grand Vacations Inc., for about $6.5 billion. Those stakes are worth about $7.5 billion today, Nassetta said. HNA has pledged about $3 billion of the holdings as collateral for loans from four banks, he said. They are JPMorgan Chase & Co., Credit Suisse Group AG, Deutsche Bank AG and UBS Group AG, according to a March filing by HNA.
"Call me old-fashioned, but that's a lot of equity and a lot of margin for error," Nassetta said. "It doesn't keep me up at night."
HNA has 20 months left on its two-year lockup preventing a sale of the shares. The alliance continues to offer strategic benefits over the long term, and HNA is proceeding with plans to name two representatives to Hilton's board, Nassetta said.
An HNA representative didn't respond to questions about its Hilton stake.
Hilton shares have fallen more than 7 percent from their peak in June. They were down 1.5 percent to $62.14 at 1:50 p.m. New York time.
Read More: HNA, the Curious Company Worrying China and U.S.: QuickTake Q&A
Another Chinese company that has come under scrutiny during the crackdown on corporate risk-taking, Anbang Insurance Group Co., is proceeding with its planned renovation of the Hilton-operated Waldorf Astoria luxury hotel in Manhattan, with major demolition set to begin this autumn, Nassetta said. Anbang has told Hilton it has the financial capacity for the work, he said.
'Never Know'
"Exactly where they're getting that money I do not know and probably will never know," he said. "They have a lot of resources given the size of their business."
The Waldorf conversion into luxury condominiums and a smaller hotel is scheduled to take about three years. Hilton earned about $7.3 million in fees from the Waldorf last year. "When it reopens, that will come back and will be higher than what it was when it left the system," Nassetta said on the conference call.
Hilton also is close to signing a new deal for what will likely be a Conrad-branded luxury hotel in midtown Manhattan, Nassetta said.
Given recent press coverage of Anbang and HNA, among other major Chinese conglomerates, "we've obviously had discussions with both groups," he said. As for HNA, "what happens with them ultimately, obviously I don't know, but it appears to us sort of business as usual."
Before it's here, it's on the Bloomberg Terminal.
LEARN MORE