Ford's Lower Tax Bill Papers Over Profit Challenges for New CEO
By
Loss credits drive earnings beat, boost to annual forecast

Stale vehicle lineup a roadblock to Hackett's turnaround bid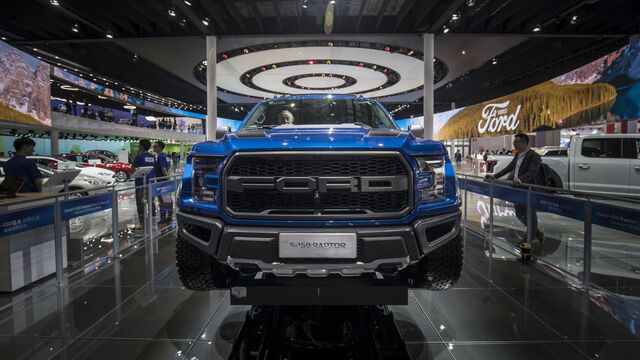 Ford Motor Co. used tax maneuvers to surprise Wall Street with better-than-expected earnings, patching over the challenges its new chief executive officer faces with a slowing U.S. auto market and aging model lineup.
In the first results since Jim Hackett became CEO in May, Ford delivered second quarter adjusted earnings per share of 56 cents, beating analyst estimates. The automaker used credits racked up from overseas markets that have posted losses to lower its tax bill and now expects a 15 percent tax rate for the year, half of what was projected earlier.

Hackett took over Ford's top job after the board ousted his predecessor Mark Fields for not acting decisively to reverse a three-year stock slide. Credited with reviving office-furniture maker Steelcase Inc., the CEO has a mandate to both clarify and accelerate Ford's strategy to take on Silicon Valley in the race to driverless cars. In the meantime, the automaker is cutting costs as a dry spell in new model introductions coincides with the U.S. auto market declining for the first time in eight years.
"Results were benign enough to allow as clean a palette as possible for new CEO Jim Hackett to recast the strategy and set a new long-term agenda for the company," Adam Jonas, a Morgan Stanley analyst, wrote in a note to clients. Investor sentiment around U.S. auto manufacturers -- and Ford in particular -- is "very low," he said.
No Quick Fix
Ford shares fell as much as 2.8 percent, the steepest intraday drop in more than two months, and were down 2.5 percent to $10.99 as of 10:25 a.m. in New York. The stock has declined 9.5 percent this year, trailing the benchmark S&P 500 Index's gain.
The automaker predicted full-year profit in the range of $1.65 to $1.85 per share, adjusted for some items. While that's up from about $1.58 per share projected previously, according to Chief Financial Officer Bob Shanks, the forecast implies weaker pretax operating results.
"It's still going to take a while to see anything in the results" from Hackett's efforts, said David Whiston, an auto analyst with Morningstar in Chicago. "Regardless of who is CEO, they just don't have a lot of new vehicles right now. You don't change that in one or two quarters."
Focus Moves
Hackett's first moves have been to shake up plans for the Focus compact, which American consumers have been shunning along with other passenger cars in favor of sport utility vehicles.
The CEO has scrapped a controversial plan to move Focus production from Michigan to Mexico and instead will build the car in an existing factory in China, where labor costs are cheaper. Ford expects to save $500 million as a result of the move.
Ford also has canceled plans to sell the next-generation Focus in South America, a market where the company has posted losses amid economic instability, Shanks said. The automaker has reduced spending on the next Focus by $1 billion overall, which will be deployed to vehicles and projects that generate greater profits, he said.
"We have a number of things that we would love to do that we didn't think we necessarily had the capital to do, that can generate higher returns," Shanks said. "Some of that is in utilities, some of it is in trucks, commercial vehicles, certainly some of that would be in some of the growth areas" such as self-driving cars and electric vehicles.
100 Days
Hackett has said he is taking his first 100 days to review previous plans and promises. He also may be considering new options. Ford recently entered preliminary talks to acquire electric carmaker Lucid Motors Inc., according to people familiar with the situation. Staffed by engineers from rival Tesla Inc., Lucid plans to begin producing a luxury sedan in two years capable of hitting speeds of 235 miles per hour.
Investors remain skeptical that Ford can take on Silicon Valley stalwarts like Alphabet Inc., Apple Inc. and Tesla that are aiming to dominate the autonomous age. Ford's stock has risen slightly on Hackett's watch, but still closed Tuesday off 37 percent from a high of $17.84 in July 2014.
One drag on results is the state of Ford showrooms, with several important models starting to show their age. The Explorer SUV, last fully updated in 2011, is more than a year away from a redesigned version making its debut. The Escape, Ford's top-selling crossover, is two years from its next overhaul, according to a study by Bank of America Merrill Lynch.
New SUVs
Ford has said its rugged Bronco SUV won't make its return until 2020, while the comeback of the Ranger pickup is slated for late 2018. The biggest introductions Ford has coming soon are its large SUVs, with the Ford Expedition and the Navigator beginning sales later this year.
Investors are eager to hear how Hackett will take on challenges like collapsing sedan sales and mounting mobility competition, though expectations are low for a quick fix, Whiston said.
"There's not a whole lot someone can do very quickly," he said. "I don't have wild expectations of the stock shooting up shortly after this management change given that we're at the top of the cycle and given that Ford's profitability is already quite healthy."
Before it's here, it's on the Bloomberg Terminal.
LEARN MORE