markets
Five Things You Need to Know to Start Your Day
Get caught up on what's moving markets in Asia.
By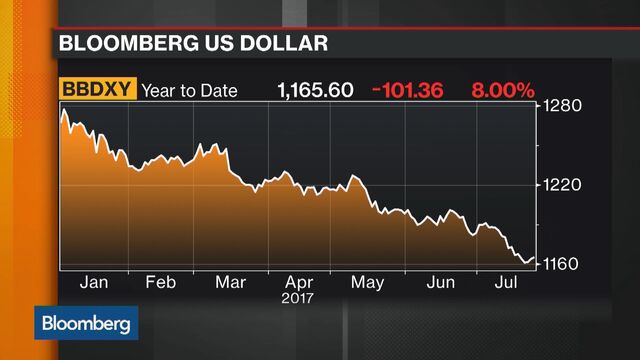 Want to receive this post in your inbox every morning? Sign up here.
Federal Reserve sparks U.S. dollar selloff, Europe's "day of hell" awaits, and South Korea's second-quarter growth figures are due out. Here are some of the things people in markets are talking about.
Dollar Doldrums
The U.S. dollar sank after the Federal Reserve subtly acknowledged persistently sluggish inflation in its July decision, damping expectations for another interest rate increase this year. The greenback was the worst-performing G10 currency of the day, with the Bloomberg Dollar Spot Index closing at a 14-month low. As expected, the Fed statement was updated to suggest the process of balance sheet normalization would commence "relatively soon."
'Day From Hell'
Finance pros in Europe have a busy day ahead of them Thursday as a jam-packed earnings calendar, especially in the consumer goods industry, looms. Quarterly results from consumer behemoths like Anheuser-Busch InBev, Nestle, Danone, and many more are due out. Across all industries, European companies with a market value in excess of $3 trillion are poised to report on Thursday. No wonder Martin Deboo of Jefferies dubbed it a "day from hell." There's no relief on the economic front, either. Unemployment data from Sweden, Spain, and Hungary are due out, as well as German consumer confidence.
Coming Up...
Headlining the economic calendar in the Asia Pacific region is the release of preliminary second-quarter growth for South Korea. South Korea's economic growth slowed in the second quarter, at 0.6 percent from the previous three months, when it increased 1.1 percent. Economists said the slowdown is mostly due to a base effect from a solid first-quarter performance and that it shouldn't be seen as a negative sign for the outlook. President Moon Jae-in is prioritizing inclusive growth, with plans to boost the minimum wage, add public sector jobs, and regulate large conglomerates. Also on the docket: updates on the progress of China's currency internationalization, with data on the share of Swift payments made in its local currency, as well as the annual change in corporate profits for June. 
Trifecta 
Major U.S. equity benchmarks were relatively unchanged Wednesday, with the Dow Jones Industrial Average, S&P 500 Index, and Nasdaq Composite Index all rising to close at records. The Fed decision had little impact on the stock market. Shares of Facebook eventually surged in the after-hours session on revenue growth that exceeded analysts' expectations. West Texas Intermediate futures climbed to an eight-week high after weekly inventory data from the Energy Information Administration showed U.S. crude stockpiles shrank to their lowest level since the start of the year. Kuwait also pledged to reduce sales in a bid to alleviate the supply glut.
Futures Mixed
Nikkei 225 futures are in the red ahead of the open after the yen posted a solid advance against the U.S. dollar, typically a headwind for domestic equities. S&P/ASX 200 futures are trading to the upside as of 5:48 a.m. Tokyo time. The MSCI Asia Pacific Index rose marginally on Wednesday, with energy names as the standout performers.
What we've been reading
This is what caught our eye over the last 24 hours.
Before it's here, it's on the Bloomberg Terminal.
LEARN MORE