Fed Balance Sheet Shifts Into Limelight Absent Rate Hike Urgency
By and
Statement by FOMC may clarify timing of asset rolloff plans

Weak inflation may prompt dovish tweaks to Fed's views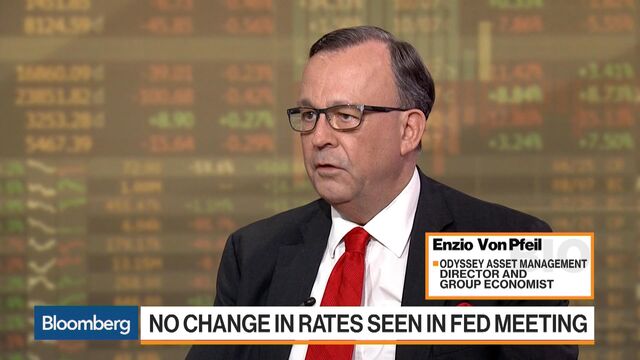 If the Federal Reserve delivers any surprises at its meeting this week, they will probably come from news on when it plans to start shrinking its balance sheet.
Economists don't foresee an interest-rate hike at the two-day gathering, which wraps up with a statement at 2 p.m. on Wednesday in Washington. Policy makers might update their language on inflation, because weakness in price data has persisted since they met in June, but those changes should be minor. There's no press conference scheduled after this meeting.
A larger source of uncertainty stems from the timing of when the Fed will start to shrink its $4.5 trillion holdings of mainly Treasuries and mortgage-related debt. Everyone wants to know how the Fed will cut the bloat after building assets to record levels to help shield the U.S. economy during the financial crisis.
Read more on the Fed's balance-sheet exit plan in this QuickTake
Officials expect to begin the process this year and Chair Janet Yellen has said it could get under way "relatively soon." Her lack of specific guidance has economists surveyed by Bloomberg looking toward the Fed's meeting in September for an announcement, and the statement's discussion of the balance sheet will be scrutinized for such a signal.
"It seems like they would like to get the process started in the Fall -- some type of open-ended language, like Yellen's language 'relatively soon,' would suffice," said Steven Friedman, senior economist at BNP Paribas Investment Partners in New York. "I don't think they've done sufficient groundwork to prep the markets to start the process after the July meeting."
These are the lines to watch for changes in the Fed's language, in the order in which they appear in the statement:
Inflation Developments
June: "On a 12-month basis, inflation has declined recently and, like the measure excluding food and energy prices, is running somewhat below 2 percent."
Since June inflation figures showed a fourth-straight month of weakness, the Fed's inflation line is probably due for an update: Goldman Sachs economists say "declined recently" could shift to "declined further."
This is just a description of data we've already seen, but it's important as markets try to glean how the policy-setting Federal Open Market Committee is thinking about price developments. Yellen has played down the recent slowdown as a temporary blip. But as it becomes more extended, she may have to change that position.
Friedman from BNP also expects the phrase "somewhat below" to get downgraded.
"In a sense it's just marking-to-market," he said, though "markets would take it as a little bit of a policy signal: that the Committee is unlikely to raise rates again in September."

Inflation Outlook

June: "Inflation on a 12-month basis is expected to remain somewhat below 2 percent in the near term but to stabilize around the Committee's 2 percent objective over the medium term...the Committee is monitoring inflation developments closely."
The FOMC is likely to reiterate that it is watching inflation developments closely. Yellen repeated that line while testifying before Congress this month, and data since then has not improved. The words "somewhat below" could disappear, mirroring the change in developments.
Interest Rates
June: "In view of realized and expected labor market conditions and inflation, the Committee decided to raise the target range for the federal funds rate to 1 to 1-1/4 percent."
Investors see no chance of a rate increase in July, according to pricing in federal funds futures contracts. The Fed hiked at its meeting in June and moving at consecutive meetings would be inconsistent with their stated intention to raise rates gradually. Plus, inflation is heading even further below its 2 percent target.

Balance Sheet
June: "The Committee currently expects to begin implementing a balance sheet normalization program this year, provided that the economy evolves broadly as anticipated."
This is probably the biggest question mark in the July release: Will the Fed announce a date for unwinding the balance sheet?
While most economists don't expect this to happen, there are some arguments in favor. Making the announcement now would get it out of the way before a potential government debt-ceiling showdown, which could come to a head in October.
It would also get the ball rolling ahead of a possible change in Fed leadership, if President Donald Trump signals in coming months that he'll replace Yellen when her term expires in February. It would also finally demonstrate that the Fed can take a policy decision at a non-press conference meeting, which it frequently says it can do, but has never actually done.
On the other hand, with inflation scant, there's little to force the Fed's hand. "Nothing is required here, so there is no need to rock the boat,"economists at UBS wrote in a research note.
Economists at Wells Fargo think it's possible the Fed could nod toward September by changing the language from "this year" to "relatively soon," though they don't expect any explicit reference to the month. Michael Feroli, chief U.S. economist at JPMorgan Chase & Co., sees a one-in-five chance that the Fed could announce the normalization start date.
The Dissenter
June: "Voting against the action was Neel Kashkari, who preferred at this meeting to maintain the existing target range for the federal funds rate."
Given that the Fed is unlikely to hike this month, there is probably no need for Minneapolis Fed President Neel Kashkari to repeat his dissent of the last meeting.
Before it's here, it's on the Bloomberg Terminal.
LEARN MORE