technology
BetterWorks CEO Resigns Amid Sexual Harassment Lawsuit
By
Board searches for replacement; CEO Duggan to become president

Suit comes amid wave of industry-wide harassment allegations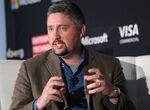 The head of BetterWorks Systems Inc. is stepping down following a lawsuit alleging he physically assaulted a former employee. The change comes as Silicon Valley looks to take firmer action against allegations of sexual harassment and other misconduct by executives.
Kris Duggan, who founded BetterWorks and served as chief executive officer, will stay on as interim CEO until the board finds his replacement, the company said Wednesday. After that, he'll become president. Shona Brown, a former Google executive, will take on a newly created position of executive chair at BetterWorks, which makes human-resources software for businesses.
A growing group of women in the technology industry are speaking out against what they describe as sexist, hostile and sometimes predatory behavior by men in positions of power. Uber Technologies Inc. fired more than 20 employees following an investigation into past HR complaints. The scandals contributed to the eventual ouster of Travis Kalanick as CEO. Venture capitalists Justin Caldbeck, Dave McClure and Frank Artale left their firms in recent weeks after allegations of misconduct toward female entrepreneurs. Fred Destin, another VC, is struggling to raise a new fund, largely due to questions about his past treatment of women.
Duggan's demotion at BetterWorks comes two weeks after he was named in a lawsuit by former employee Beatrice Kim alleging that he nurtured a work culture that was hostile toward women and that he sexually harassed and assaulted her during a company retreat. She claimed she raised the issue with BetterWorks' HR department and that Duggan later apologized for his behavior at the event, with a promise to hire an outside firm to investigate. Kim's suit said she was told Duggan hadn't violated harassment policies, and she eventually resigned.
Duggan said he "strongly disputes" the allegations in the lawsuit and that the board concluded there was no wrongdoing after reviewing the investigation's findings. He said he volunteered to step down to lessen the distraction posed by the lawsuit. With about $35 million in venture capital, BetterWorks makes software to track employee performance that's used by businesses including AOL, BMW and GoPro Inc. "I continue to remain committed to BetterWorks and its success for the foreseeable future," Duggan said in an emailed statement.
Brown had served as a BetterWorks board observer for several years before becoming a director this year, in part to handle issues arising from Kim's allegations, people familiar with the matter said. Penguin Random House was set to publish a book co-authored by Duggan and John Doerr, another director at BetterWorks and chair of the venture firm Kleiner Perkins Caufield & Byers, but the plans were put on hold after the suit.
(
Updates with Brown's affiliation with BetterWorks in the last paragraph.
)
Before it's here, it's on the Bloomberg Terminal.
LEARN MORE