Mining Giants Post Red-Hot Results in Lukewarm Gold Market
By
Barrick to Goldcorp exceed estimates in 'night of the beats'

Profit margins for senior gold miners bounce to 2012 levels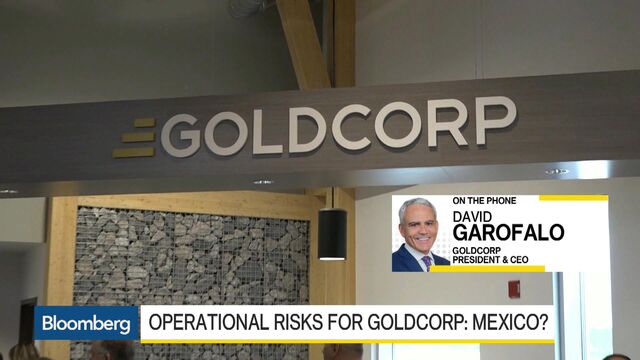 Four of the world's top gold companies were in full "beats" mode in the second quarter, wringing more value out of their mines amid tepid gold prices.
A day after Newmont Mining Corp. reported higher-than-expected adjusted profits by extracting more gold at lower costs, Canada-based Barrick Gold Corp., Goldcorp Inc. and Agnico Eagle Mines Ltd. followed suit Wednesday.
"It's the night of the beats," Andrew Kaip, a Toronto-based analyst at BMO Capital Markets, said by telephone. "The read here is that their optimization programs are continuing to deliver and their capacity to improve their operational outlook continues to have momentum."
Gold miners slashed spending after a five-year rout beginning in 2011, focusing instead on cutting debt and making their operations more efficient. As prices recovered from 2015 lows, they've been working to expand production internally, or find new assets, while keeping a tight rein on costs. Although gold futures rose last year, prices were relatively flat in the second quarter compared with a year earlier.
Barrick climbed 4.4 percent to C$21.07 at 9:37 a.m. in Toronto, while Goldcorp gained 0.2 percent and Agnico rose 4.2 percent.

Here are the second-quarter highlights:
Newmont:
Per-share adjusted earnings were 46 cents, beating 26-cent average estimate
Produced 1.35 million ounces compared with 1.19 million a year earlier
All-in-sustaining costs fell to $884 from $913
"We're going to take a look at our ability to pay the dividend and to potentially bump that further in the future": Chief Executive Officer Gary Goldberg
Barrick Gold:
Production, costs and profit were better than expected
Per-share adjusted profit was 22 cents versus the 17-cent average estimate
Produced 1.43 million ounces compared with 1.34 million ounces a year earlier
Full-year guidance maintained, excluding potential impact from a dispute in Tanzania at Acacia Mining Plc, in which Barrick is a majority shareholder
All-in-sustaining costs fell to $710 an ounce from $782 a year earlier
"Barrick continues to monitor the situation, and should Acacia revise its full-year outlook, Barrick will evaluate the impact to its own guidance at that time": Barrick
Goldcorp:
Per-share adjusted earnings were 16 cents, beating the 9-cent average estimate
Produced 635,000 ounces in the quarter compared with 613,000 a year earlier
All-in-sustaining costs fell to $800 an ounce from $1,067
Company appoints Matthew Coon Come, an indigenous rights leader, to board
"We have now delivered four consecutive quarters of on target gold production while also consistently expanding our margins per ounce of gold sales through our successful efficiency program": CEO David Garofalo
Agnico Eagle:
Adjusted earnings of 24 cents a share beat highest earnings estimate
Produced 427,743 ounces versus 408,932 ounces a year earlier
All-in-sustaining costs fell to $785 an ounce from $848
"Our Nunavut projects are advancing on schedule and budget, and we are also generating positive exploration results at many of our mine sites, which should support future growth initiatives": CEO Sean Boyd
"It's a good start for reporting for the gold space," Kaip said. "All four companies that have reported have done better than the market expected."
Before it's here, it's on the Bloomberg Terminal.
LEARN MORE