Tax changes could fund the air quality plans, govt suggests

Local authorities will be able to impose levies on diesel cars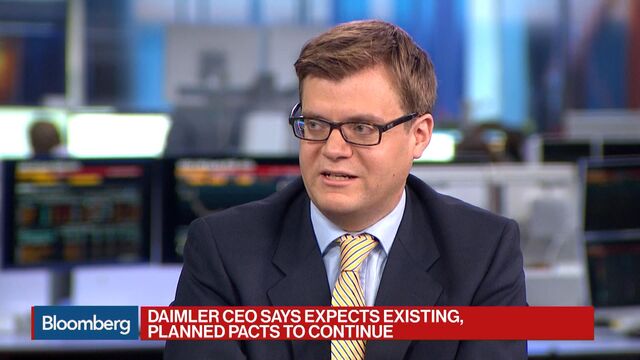 The U.K. became the latest European country to mark the end of the line for diesel and gasoline fueled cars as automakers such as Volvo race to build electric vehicles or face the consequences of getting left behind.
In London, the government said it will ban sales of the vehicles by 2040, two weeks after France announced a similar plan to reduce air pollution and become a carbon-neutral nation. For some in the auto industry, the plans are too much too soon while environmental campaigners say exactly the opposite.
"We could undermine the U.K.'s successful automotive sector if we don't allow enough time for the industry to adjust," said Mike Hawes, chief executive officer of the Society of Motor Manufacturers and Traders. "Outright bans risk undermining the current market for new cars and our sector, which supports over 800,000 jobs across the U.K.," he said. "The industry instead wants a positive approach which gives consumers incentives to purchase these cars."
Daimler AG, the maker of Mercedes-Benz cars, is keen to shore up diesel, since it powers many of its lucrative sport utility vehicles and big sedans, but others are embracing the new reality. Sweden's Volvo Car Group said that by 2019 all of its cars will have an electric motor, while BMW AG will build an electric version of its iconic Mini compact car in Britain.
The global shift toward electric vehicles will create upheaval across a number of sectors, from oil majors harmed by reduced gasoline demand to spark plug and fuel injection makers whose products aren't needed by plug-in cars. In the U.K., the decision is partly brought on by stringent European Union emission rules that the country must follow even as it is set to leave the bloc.

"We can't carry on with diesel and petrol cars," Environment Secretary Michael Gove said on BBC Radio 4's "Today" show. "It's important we all gear up for a significant change which deals not just with the problems to health caused by emissions but the broader problems caused in terms of accelerating climate change."
Click here to read more about why it's the end of cars as we know it
The environmental push comes as the U.K. plans to invest more than 800 million pounds ($1 billion) in driverless and zero-emission technology and outlined plans to invest 246 million pounds in battery technology research. But for activists and opposition politicians, the new targets are not ambitious enough.
"This is a cynical move by the government to grab the headlines by announcing changes for 23 years' time and failing to enact measures which will curb pollution in UK towns and cities now," said Oliver Hayes, Friends of the Earth air pollution campaigner.
London mayor Sadiq Khan said the commitment to phase out sales of diesel cars was "welcome" but "Londoners suffering right now simply can't afford to wait until 2040."
Electric vehicles will likely grow in popularity in the second half of the next decade due to plunging battery prices, according to a report from Bloomberg New Energy Finance. The analysts see the proportion of fully electric cars sold in the U.K. rising to one in 12 by 2030, from one in 200 today.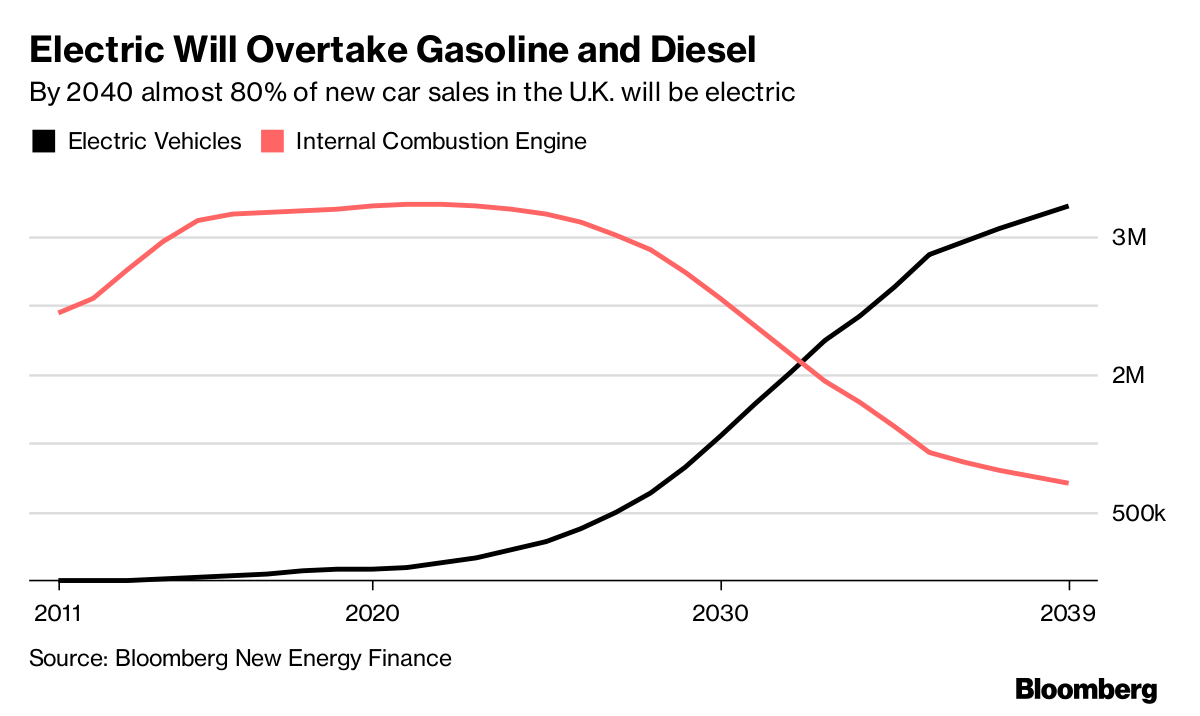 "Our modelling shows that 79 percent of new cars could be electric by 2040 in the U.K. even under existing policies, thanks to rapidly falling battery costs," said Albert Cheung, analyst at Bloomberg New Energy Finance. "To close the gap to 100 percent, we'll need to see much greater investments in charging infrastructure, to make sure people have somewhere to plug in."
Not all countries are on the same page. With tens of thousands of jobs at stake, Germany is looking for ways to reduce automotive emissions without moving toward an outright ban on vehicles with combustion engines. State and federal officials are set to meet next week in Berlin with auto-industry executives to discuss possibly retrofitting cars currently on the street with new technology to reduce pollution from exhaust.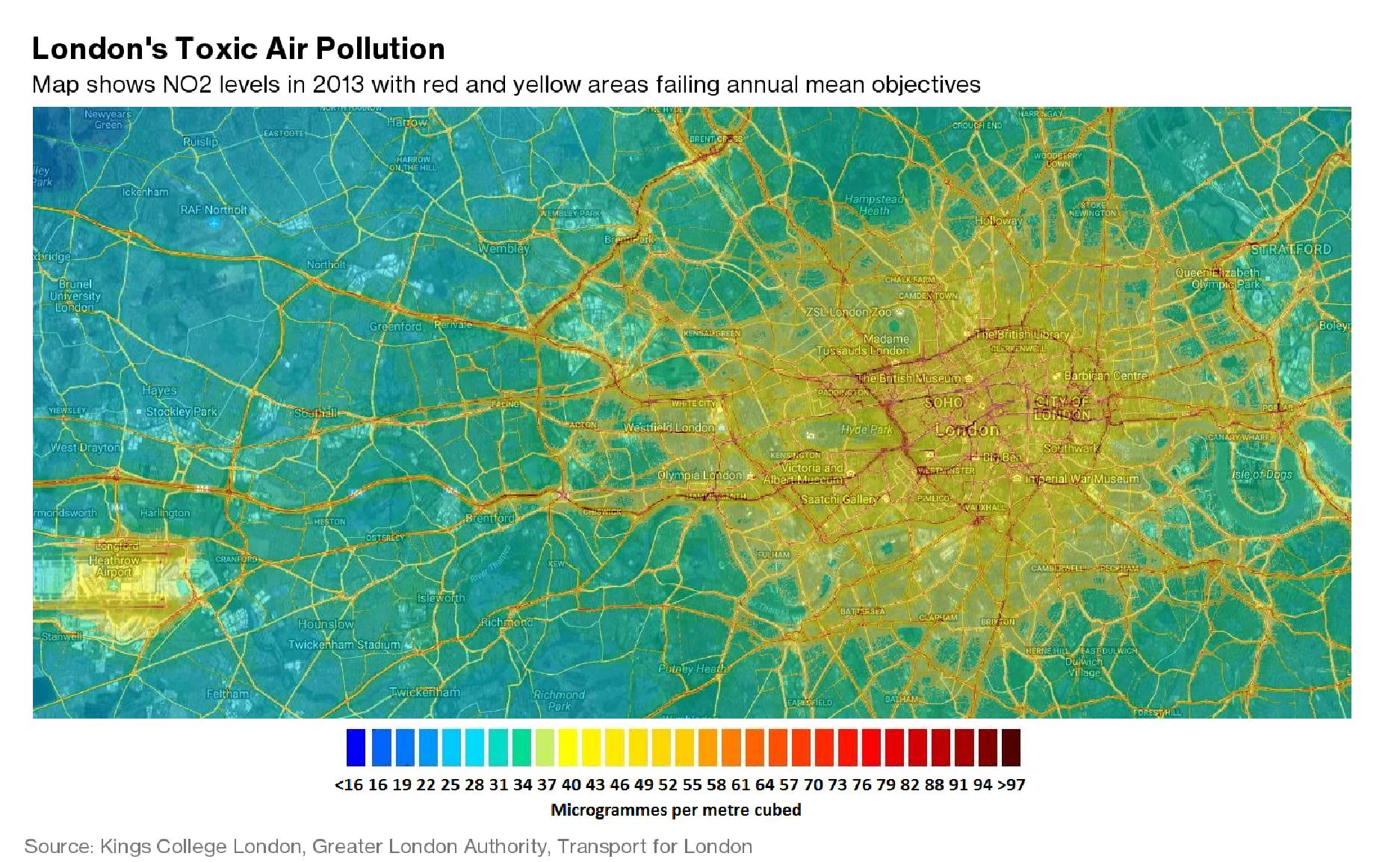 Critics are also concerned that it will be up to local authorities to impose tough levies on the most polluting diesel vehicles as soon as 2020. The plan is to urge local jurisdictions to reduce emissions first, by fitting diesel vehicles with filters, changing road layouts and removing speed humps.
The government report suggested tax changes for new diesel vehicles will be introduced in the Autumn to fund the plans, which local authorities have until December 2018 to finalize.
"What we're saying to local authorities is: Come up with an imaginative solution to these proposals,"' Gove told the BBC.
The U.K. has the largest fleet of diesel vehicles in Europe after drivers were encouraged to switch from gasoline because diesel has more range and emits less carbon dioxide. But emissions from the fuel are between eight and 10 times more toxic, according to Stephen Holgate, medical research professor at the University of Southampton and special adviser on air quality at the Royal College of Physicians.
Britain has now switched emphasis and is seeking to position itself as a leader in electric and driverless car technology, hoping to create jobs and export opportunities as it quits the European Union. Today's decision represents a more ambitious update to last month's Queen's Speech, which said the government would set a target for almost every car and van to be zero emission by 2050.
Plug in cars are still only about one percent of all U.K. vehicle sales, yet the country is one of only a handful worldwide to have more than 100,000 plug-in automobiles on the road.
— With assistance by Thomas Penny
Before it's here, it's on the Bloomberg Terminal.
LEARN MORE