Trump's Crime-Enforcer Pick Meets Senate Fire Over Alfa Bank
By
Senators seek answers from DOJ's criminal division nominee

Brian Benczkowski advised Alfa Bank on BuzzFeed response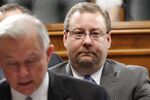 President Donald Trump's nominee to oversee federal criminal investigations hit a headwind with Democratic senators over his work earlier this year for a Russian bank scrutinized for possible ties to Trump's campaign.
Brian Benczkowski, a partner at Kirkland & Ellis in Washington, disclosed to senators this month that he had represented Moscow-based Alfa Bank. The job, he told a Judiciary Committee hearing Tuesday, was to supervise an internal bank investigation into traffic on the bank's computer system as well as advise the bank on its response to the publication of an intelligence dossier linking the bank to the Trump campaign.
"His work for Alfa Bank went to the heart of the reported investigations," Senator Dianne Feinstein, a Democrat from California, said during Tuesday's hearing. "He worked with a computer forensics firm to determine any ties between servers of Alfa Bank and the Trump Organization."
Benczkowski said in a July 19 letter to the committee that his firm had a confidentiality agreement with Alfa Bank which prevented him from disclosing their relationship earlier. He said he revealed his work for the bank as part of a background check for the Justice Department position. Alfa Bank subsequently issued a waiver allowing him to tell the committee about it. Benczkowski's representation of the bank was reported Monday by the New York Times.
Benczkowski oversaw the internal investigation in March, he told senators Tuesday. That assignment came shortly after he wrapped up work leading the Trump administration's transition team at the Justice Department, which included advising the incoming administration on staffing and other matters. Benczkowski previously served as a top aide to Senator Jeff Sessions, now the U.S. attorney general.
Benczkowski said that if confirmed as the chief of the Justice Department's criminal division, he'd be recused from any matters involving Alfa Bank for two years. When asked by Feinstein whether there was a connection between Alfa Bank and Trump's campaign team, Benczkowski said he wasn't aware of any.
He also told senators he didn't know whether Special Counsel Robert Mueller, who is investigating Russia's election meddling, was looking into the Alfa Bank matter. Feinstein said she has requested a briefing from the Justice Department on any investigations regarding Alfa Bank.
Moscow-based Alfa Group has spent months vociferously denying that it has any ties to the president, his family business or his campaign. Alfa Bank has denied allegations in news reports of possible electronic communications between a server at the bank and one identified with the Trump Organization during the 2016 U.S. presidential campaign. After BuzzFeed published an intelligence dossier alleging in part that Alfa Bank was part of a Russian scheme to influence the 2016 election, Mikhail Fridman, the bank's founder, and his partners sued the site for defamation.
Benczkowski said that the purpose of the internal investigation into the electronic communications was to take the findings to the Federal Bureau of Investigation and the Justice Department, which he said the firm did. He was also asked by his law partner, Viet Dinh, to read the document published by BuzzFeed and to provide advice about whether a defamation claim would be viable, assuming everything was false. That job took about five hours, he said. The Alfa Bank partners filed their defamation suit, using a different firm, in May.
Asked in the hearing whether, if confirmed, he would have any visibility into Mueller's probe, Benczkowski said he didn't know. When asked by Senator John Kennedy, a Louisiana Republican, whether he was hired to interfere with Mueller's investigation, he said "absolutely not, Senator, and if I were asked to do anything like that, I would steadfastly refuse."
— With assistance by Stephanie Baker
Before it's here, it's on the Bloomberg Terminal.
LEARN MORE