Republican Senators Rally Around Sessions in Rebuke to Trump
By and
Scaramucci says it's 'probably right' Trump wants A.G. gone

Republican senators rally to defense of attorney general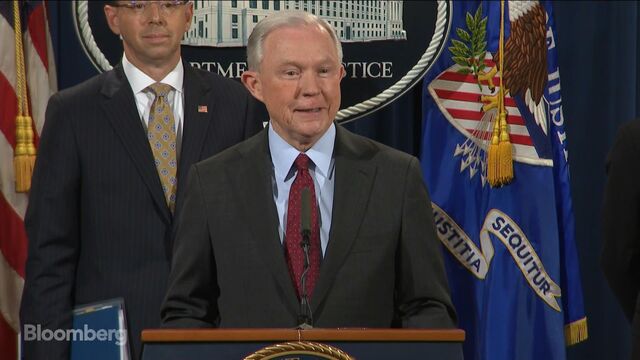 Donald Trump lashed out at Attorney General Jeff Sessions again on Tuesday, drawing an immediate backlash from Republican senators who rallied around their former colleague in a direct rebuke of the president.
"Attorney General Jeff Sessions has taken a VERY weak position on Hillary Clinton crimes (where are E-mails & DNC server) & Intel leakers!" Trump tweeted on Tuesday morning, the latest volley in an apparent campaign to pressure Sessions to quit. Trump has said he's angry that the former Alabama senator, one of the first members of Congress to support his presidential campaign, recused himself from the Justice Department's probe into Russian meddling in the 2016 election.
Trump's attacks on Sessions, who served in the Senate and was head of the Judiciary Committee, produced a strong reaction from several conservative senators whose support the president needs to get his agenda through Congress.
Senator Richard Shelby announced via Twitter his "deep respect and unwavering support" for his fellow Alabamian. South Carolina Senator Lindsey Graham called Sessions "a rock-solid conservative" who "believes in the rule of law." Graham said Trump's suggestion that the attorney general prosecute a former political opponent was "highly inappropriate."
Trump is putting intense focus on his feud with the attorney general on the same day the Senate is moving toward what could be a decisive vote on repealing Obamacare, a central campaign promise of both the president and congressional Republicans, and as his son-in-law is being interviewed by the House Intelligence Committee about the campaign's possible collusion with Russia. 
Read more: Your Guide to Understanding the Trump-Russia Saga
New White House Communications Director Anthony Scaramucci told reporters Tuesday that Trump's tweets "stand for themselves."
"The president wants his cabinet secretaries to have his back," Scaramucci said. "There's obviously an issue in the relationship."
He added, without elaborating, "We'll get to a resolution shortly."
Asked earlier in a radio interview whether Trump wanted Sessions gone, Scaramucci said that was "probably right."
Continued Frustration
White House spokeswoman Sarah Huckabee Sanders, who's previously said that Trump retains full confidence in Sessions, said whether the president will fire Sessions is still to be determined.
Trump "is certainly frustrated and disappointed in the attorney general for recusing himself, but I think if that's a decision the president wants to make he certainly will," she said Tuesday on Fox News. "That frustration hasn't gone away and I don't think it will."
Sessions, 70, has so far indicated he has no intention of stepping down, saying last week that he would continue to "wholeheartedly" support Trump's priorities. "We love this job. We love this department. And I plan to continue to do so as long as that is appropriate," he said.
The remarks only seemed to goad the president. On Monday, he called Sessions "beleaguered" in a tweet.
Shelby told reporters that he called Sessions Tuesday morning to tell him that he has a lot of support at the Capitol and to urge him to stay in the job.
"Sessions was a very loyal man to the president. He stepped out front with him and worked with him when no senator did," Shelby said. "Loyalty ought to be a two-way street."
Obligation to Department
One reason Sessions hasn't resigned in the face of taunting from Trump is that believes he has an obligation to the rule of law and is seeking to prevent a politicization of the Justice Department, according to a U.S. official who has worked with Sessions and frequently talks with him, though not since the most recent tweets by the president.
However, one Justice Department official said the tension between Trump and Sessions is a distraction that is undermining the work of the department. The official said even basic operations, such as personnel approvals, aren't getting done in a timely manner.
Both officials spoke on condition of anonymity to discuss private conversations.
Trump got some measure of support from House Speaker Paul Ryan, who said the president gets to decide who is hired or fired in the executive branch. Asked whether ousting Sessions would amount to obstruction of justice because it might interfere with the Russia probe, the Wisconsin Republican said, "It's up to the president to decide what his personnel decision is, and any possible fallout that comes from that. If he has concerns about anyone in the administration and their conduct on the job, I'm sure he's going to talk with them directly."
Russia Investigations
Sessions recused himself in March from the Russia investigation, which has swept up Trump's top officials and members of his family. The decision angered Trump, who told the New York Times in an interview last week that he would have never chosen Sessions as attorney general if he knew he would recuse himself.
After Sessions stepped away from the investigation and Trump fired FBI Director James Comey, Deputy Attorney General Rod Rosenstein appointed Mueller as special counsel to investigate the president's actions and whether any of his associates collaborated with Russia's attempt to interfere with the 2016 election.
In addition to Mueller's probe, several committees in Congress are investigating the Russia matter. Jared Kushner, Trump's son-in-law and a senior White House adviser, was being interviewed Tuesday by the House Intelligence Committee following questioning on Monday by investigators for the Senate Intelligence panel. Separately, the Senate Judiciary Committee on Tuesday subpoenaed Trump's former campaign manager, Paul Manafort, to compel his testimony. Investigators working for the Senate Intelligence Committee interviewed Manafort on Tuesday.
Changing the Subject
Trump and some of his supporters have tried to divert attention from the probe into potential collusion between his campaign and Russia by repeatedly bringing up his Democratic election opponent.
"Ukrainian efforts to sabotage Trump campaign - 'quietly working to boost Clinton.' So where is the investigation A.G.," Trump said in another tweet on Tuesday, tagging Fox News host Sean Hannity in the message.
Trump also criticized other top officials in the Justice Department involved in the Russia probe, saying they have conflicts of interest.
"Problem is that the acting head of the FBI & the person in charge of the Hillary investigation, Andrew McCabe, got $700,000 from H for wife!" Trump tweeted Tuesday, a reference to Clinton ally Terry McAuliffe's campaign donation to acting FBI Director Andrew McCabe's wife when she ran for office.
The FBI investigation into Clinton's use of a private email server concluded last year without charges being filed.
While Trump spent the final weeks of the presidential campaign promising to appoint a special prosecutor to look into Clinton's email use, he reversed course after the election, indicating in several venues that he wouldn't pursue the matter.
"I don't want to hurt them, I don't want to hurt them," Trump said of the Clintons in November on CBS's "60 Minutes" program. "They're good people."
— With assistance by Laura Curtis, Anna Edgerton, Margaret Talev, and Chris Strohm
Before it's here, it's on the Bloomberg Terminal.
LEARN MORE