technology
Tesla Regains Top Consumer Reports Rating on Auto-Braking Update
By
Model S again ranks as the magazine's top ultra-luxury sedan

Despite rating bump, Model X stays near bottom of its category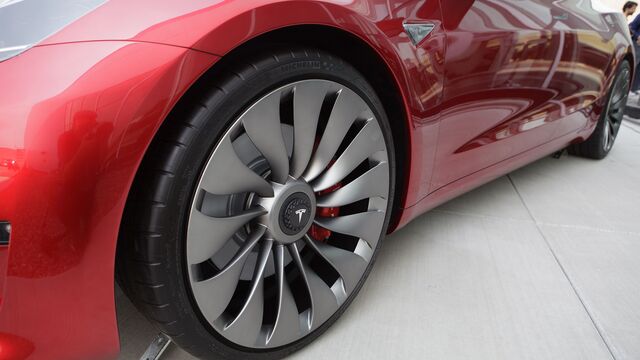 Tesla Inc.'s Model S recaptured Consumer Reports' top rating for ultra-luxury sedans after the electric-car maker updated its vehicle software to fully restore an automatic emergency braking system.
The magazine boosted the Model S sedan's rating Tuesday when it confirmed that the upper limit of Tesla's automatic braking system was 90 miles per hour, as with the vehicles the automaker built before October. In April, Consumer Reports downgraded the Model S by two points on its 100-point scale after Tesla took months to deploy the feature on its newer vehicles.
Tesla and other carmakers are racing to equip more cars and trucks with systems that use collision-detecting sensors to slow or stop vehicles before a crash. Twenty manufacturers said in March 2016 that they would equip almost all vehicles with automatic emergency braking by 2022. Consumer Reports awards extra points to companies that offer it standard.
"Automakers should never treat safety as a luxury item," William Wallace, a policy analyst for Consumers Union, the policy arm of Consumer Reports, said in an emailed statement. "Proven, life-saving safety features should be in every new car sold, and automakers certainly should not wait until 2022 to make automatic emergency braking standard."
Consumer Reports rankings are closely watched because the magazine has built credibility by paying for the vehicles it tests and refusing advertising dollars from automakers. Tesla disabled automatic braking when it transitioned to new hardware last fall that it said would render every one of its vehicles capable of self-driving at a later date. The carmaker began deploying automatic-braking updates in April.
The Model S rates ahead of the Lexus LS, BMW 7 Series and Audi A8, Consumer Reports said. While Tesla's Model X also regained points, the sport utility vehicle continues to rank near the bottom of its category. It places No. 14 among 16 luxury midsized SUVs.
Before it's here, it's on the Bloomberg Terminal.
LEARN MORE