Russia and China Hold First Joint Naval Exercises in Baltic Sea
By and
Warships train with 'artillery fire' at targets, Tass reports

Lithuania says it's monitoring drills and reporting to NATO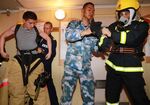 Russian and Chinese naval warships are holding joint exercises in the Baltic Sea for the first time, underscoring deepening military cooperation between the two powers.
China's Hefei destroyer, Yuncheng frigate and Lomahu supply vessel are involved in drills with two Russian corvettes that include "artillery fire at surface and air targets" in the Joint Sea-2017 maneuvers, Russia's Tass news service reported Tuesday. Helicopters and Su-24 bombers will also be involved in the "anti-aircraft and anti-ship defense measures" coordinated from the Baltiysk base in Russia's Kaliningrad enclave, it said.
The exercises are being held amid heightened tensions between Russia and the North Atlantic Treaty Organization, which has sent reinforcements to the Baltic countries of Estonia, Latvia and Lithuania ahead of planned Russian military exercises in nearby Belarus. Russia's neighbors have grown jittery over President Vladimir Putin's intentions since his 2014 annexation of Crimea and the Kremlin's support of separatists fighting in eastern Ukraine. Russia has strengthened defense cooperation with China, particularly after the U.S. and European Union imposed sanctions over the Ukrainian crisis in 2014.
Lithuania expects the Chinese-Russian exercises "to follow all standards of international marine law and to refrain from interrupting economic operations in the Baltic Sea," Deputy Defense Minister Vytautas Umbrasas said, according to the Baltic News Service. Lithuania "constantly observes and analyzes exercises taking place in our neighborhood" and shares information with its NATO allies, he said.
Russian and Chinese warships conducted their first combined drills in the Mediterranean Sea in May 2015, followed three months later by maneuvers involving 22 combat ships and 20 aircraft off Russia's Pacific coast. Similar exercises that included "island seizing" took place in the South China Sea last September, the Chinese Defense Ministry reported.
Baltic states have accused Russian military planes repeatedly in recent years of violating their airspace, prompting interceptions by NATO jets. Russia has accused NATO of stirring tensions by building up forces along its borders.
Before it's here, it's on the Bloomberg Terminal.
LEARN MORE