politics
McCain Says 'To Hell With' Media Bombast in Plea to End Division
By
GOP senator suffering from brain cancer makes dramatic return

McCain provides crucial vote to begin health-care debate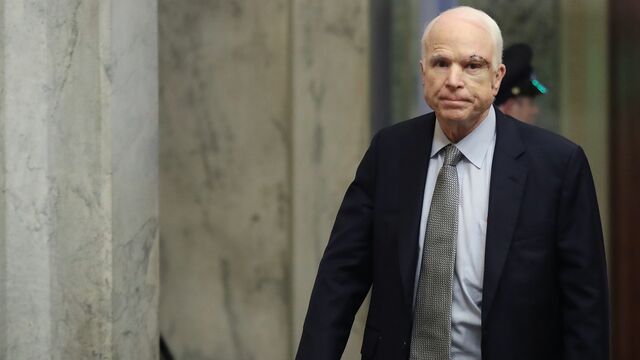 Senator John McCain made a dramatic return to the Capitol a week after his brain cancer diagnosis, casting a critical health-care vote and challenging colleagues of both parties to curb hyper-partisanship in Washington.
"Stop listening to the bombastic loudmouths on the radio, television and internet," the Arizona Republican said in a Senate floor speech. "To hell with them. They don't want anything done for the public good."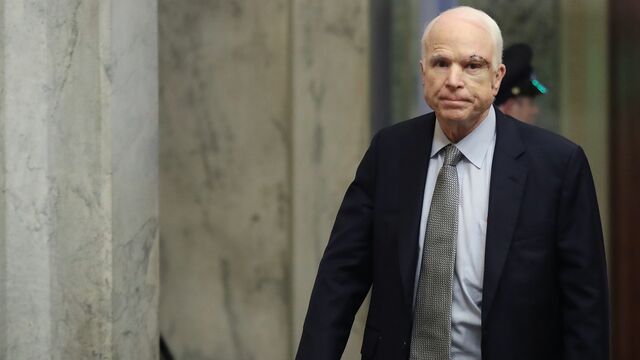 "I hope we can again rely on humility, on our need to cooperate, on our dependence on each other to learn how to trust each other again and by so doing better serve the people who elected us," he said.
The senator, who announced his diagnosis last week, provided one of the final two votes needed so Vice President Mike Pence could break a 50-50 tie to begin Senate debate on legislation to repeal and possibly replace Obamacare.
McCain was greeted by enthusiastic applause from Republicans and Democrats alike when he appeared in the chamber for the first time since undergoing surgery at home in Arizona. He spoke after the health-care test vote, with an incision and bruising apparent around his left eye. The cancer was detected after doctors removed a blood clot above his eye.
McCain, a 30-year senator and the 2008 GOP presidential nominee, said the Senate has been "spinning our wheels on too many important issues because we keep trying to find a way to win without help from across the aisle."

The senator said he voted to begin debate but won't vote for the Obamacare-replacement plan as it stands. He criticized GOP leaders for drafting their proposal behind closed doors "then springing it on skeptical members, trying to convince them that it's better than nothing."
McCain drew long applause when he said that if the current effort fails, the health committee should try to put together a plan "with contributions from both sides."
The senator said he plans to stay in Washington for a few days to work on a defense authorization measure, then return to Arizona for more medical treatment.
"I have every intention of returning here and giving many of you cause to regret all the nice things you said about me," McCain quipped in closing his speech.
Before it's here, it's on the Bloomberg Terminal.
LEARN MORE