JPMorgan Says Korea Earnings Eclipse Missiles for Investors
Kyungji Cho and Kyungjin Kim
Korea CEO expects continuous foreign flows into stocks, bonds

North Korea provides 'good buying opportunity,' Park says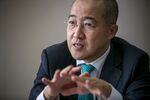 Start your day with what's moving markets in Asia. Sign up here to receive our newsletter.
North Korea's more frequent testing of its nuclear weapons and ballistic missiles is failing to dissuade global investors from pouring into South Korea, amid optimism about earnings growth, according to JPMorgan Chase & Co.
South Korea's stock valuations also are attractive compared with other emerging markets, even after a 20 percent increase this year in the Kospi index, said Park Tae-Jin, the chief executive officer of JPMorgan Korea. Stocks on the Kospi traded at about 10.4 times 12-month forward earnings compared with 14.5 times for the MSCI Asia Pacific Index.
"I expect foreign money to continue to flow into Korea's financial markets for both stocks and bonds," barring a sharp drop in the Korean won, Park said in an interview. "Most investors do believe that any correction due to North Korea issues usually provides a good buying opportunity."
North Korea's launch of an intercontinental ballistic missile briefly lifted the cost of insuring South Korea bonds to the highest level in more than a year earlier this month. The gauge has fallen since then, and the won has appreciated the most in Asia this month. Overseas investors held 701.5 trillion won of listed bonds and stocks in South Korea as of the end of June, the highest on record, Financial Supervisory Service data show. 
Improving shareholder returns and a robust earnings outlook for technology companies, banks, and steelmakers will probably continue to drive foreign flows into South Korea, Park said. The total net income of Kospi-listed companies is projected to jump 75 percent over the next 12 months after hitting a record 95.5 trillion won ($85 billion) last year, according to Bloomberg-compiled data going back to 2008.
Amid increasing tensions between the two Koreas, Park sees a possible future area of opportunity for banks if the neighboring countries ever move to reunite.

Should that happen, global financial institutions will become important, by, for example, raising funds for the government and seeking private capital for infrastructure investments, said Park. He added that this year marks the 50th anniversary for JPMorgan Korea -- Chase Manhattan Bank, a predecessor of JPMorgan Chase & Co., established its local office as the first foreign bank in Korea in 1967.
Korea's capital markets have been busy this year, with initial public offerings jumping 275 percent to 6.1 trillion won, led by Netmarble Games Corp., whose IPO JPMorgan participated in. Offshore bond sales by Korean companies also rose 22 percent to $20 billion, while mergers and acquisitions in the country increased 19 percent to $47 billion, Bloomberg-compiled data show.
South Korea's economy is doing well as exports climb. Gross domestic product will expand 3 percent this year, the finance ministry said in its five-year economic policy outlook. President Moon Jae-in plans to create tens of thousands of new jobs and boost growth, and parliament approved an 11 trillion won extra budget to help accomplish that. 
"We have already seen many of the large companies invest in new growth drivers such as green energy and biopharmaceuticals," Park said. "We also need new companies to come up with new ideas and entrepreneurship. The good news I think is that there is plenty of capital and liquidity to fuel growth."
— With assistance by Heejin Kim
Before it's here, it's on the Bloomberg Terminal.
LEARN MORE