Indonesia Flags Risk of Forest Fires That Triggered 2015 Haze
By
Satellite images show 170 hotspots across Indonesia: agency

Most of Southeast Asia hit by 2015 haze caused by forest fires
Indonesia sees the risk of forest and land fires increasing until the peak of dry season in September, reigniting concerns of a repeat of 2015 haze that enveloped much of Southeast Asia.
Satellite images showed 170 hotspots across the country, including 35 in Aceh province on Sumatra island, 44 in East Nusa Tenggara and 21 in West Kalimantan, according to the National Disaster Management Authority. Affected areas also include other parts of Sumatra, Kalimantan on Borneo, Java and Sulawesi, the agency known as BNPB said on Twitter.

Stinging smoke from the illegal burning to clear land for palm oil and paper plantations blanketed Singapore, parts of Indonesia, Malaysia and Thailand for over a month in 2015. Besides prompting school closures and disrupting sea and air travel in the region, the smog also forced some in Indonesia to flee their homes. The haze also cost Indonesia, Southeast Asia's biggest economy, $16.1 billion of losses, according to World Bank estimates.
The event in 2015 prompted several palm oil producers to increase efforts to prevent forest fires. Sime Darby Bhd. and IOI Corp Bhd. joined Fire Free Alliance to support Indonesian government efforts to prevent land burning. The program covers more than 200 villages, measuring at least 1.5 million hectares of land in various parts of Indonesia, and encourages citizens to participate in community-based fire prevention initiatives.
Click here to read a QuickTake on haze in Southeast Asia
The disaster agency has stepped up efforts to fight the fire in western Aceh, caused by land clearing on peatlands and mineral soil by local residents, it said. Efforts to put out the fires have been hampered by limited road access, water sources and fire-fighting facility, it said.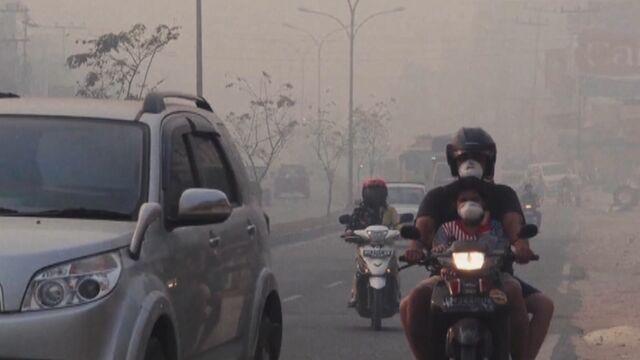 Separately, President Joko Widodo asked ministers and governors to enforce a moratorium on new permits to clear forest and peatlands for another two years, the cabinet secretariat said in a statement Tuesday. The ban issued in 2011 has now been extended twice as environment groups and consumers including Unilever and Nestle SA push for production of palm oil that's certified as sustainable.
Before it's here, it's on the Bloomberg Terminal.
LEARN MORE